A Step-by-Step Thorough Guide and Important Tips to Write History Essay
When you need to write a history essay just start doing so with a calm mind and with enough time in hand because it is a time-consuming and challenging task. You have to incorporate as many details as possible and all the important historical facts and figures. What would be a cohesive and intelligent way to write a history essay that can demonstrate your writing skills and your depth of knowledge about the topic?
Given here is a complete step-by-step guide for the same: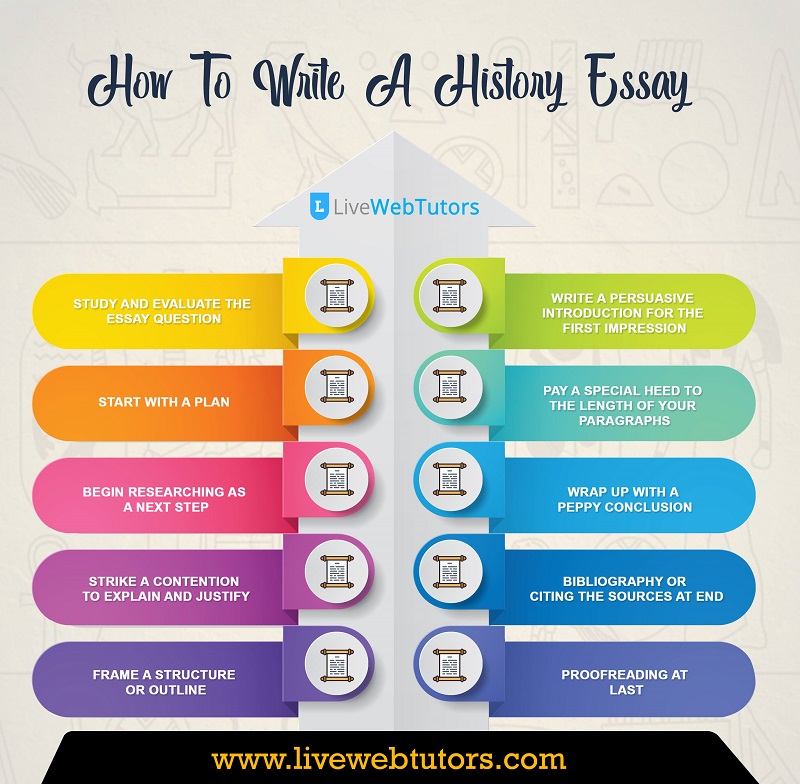 Study and Evaluate the Essay Question:
The first and foremost thing that you need to do for writing a history essay is to evaluate the question you are asked. However, nobody really does that! An essay question can be a kind of challenge or a task for you. It may ask you to explain the effects or causes of any particular situation or event. You may be asked to analyze the causes or effects of some particular historical event.
It is good to read the topic several times meticulously before you begin to write. At this very juncture, you should include specific phrases or keywords to be included in the essay. If you are confused about certain terms, you need to look into them. Your key phrases about the essay question will help you frame the entire essay so evaluate the question and research it thoroughly.
Start With a Plan:
As a next step, you should start making a plan as soon as you are through with studying and evaluating questions of the essay received by you. Indulge in a good amount of research work and frame out what can be the possible topics, issues, and events related to the question provided to you. Is there any scope of additional issues or questions? What can be the possible sources of help? If you are finding it difficult and do not know how to approach the question, you should discuss the same with your colleagues, your teacher, or somebody you can trust on. Bear in mind that your plan tends to change when you locate further information
Begin Researching as a Next Step:
Once you have evaluated the question and developed an initial plan, you need to gather information and collect evidence for the same. Most people begin by reading just an overview of the topic that needs to be developed as an essay. This makes a good intro and builds an initial framework for a better understanding of the topic. It can also be a basis for further investigations and queries.
You should be guided by the essay question solely and by your own planning. You need to locate the concepts or terms that you may be confused with because to make your essay lucid and flow in a better way, you need to understand the confusing terms and concepts first and find out whether they are relevant. Be creative with your research work. It is good to seek the advice of your classmates and teachers.
Strike a Contention to Explain and Justify:
Good writers always do this and this is what makes their over and all piece utterly effective. So, to write a great essay you can do the same. When you write an essay using contention, you can go on to explain and justify all the details to make your essay appealing. Your contention should be endorsed with sufficient evidence and arguments.
Just keep in mind that striking a contention is easy but to justify it with facts, figures, and evidence is difficult. So, when you develop a contention, just make sure that you have enough material in support so the contention appears strong, convincing, and authoritative. This will make your essay truly impressive.
Frame a Structure or Outline:
Once you think that your research work is complete you need to jot down a framework on which essay can be developed. You need to start with an introduction, the main body comprising of several paragraphs, and a conclusion. Paragraphs should be well-organized and should flow systematically and logically. If it is a history essay it is good to organize paragraphs chronologically covering all the topics and events according to their significance or their relevance. Once you have formed the structure of the draft, you can begin with the introduction.
Write a Persuasive Introduction for the First Impression:
First impression matters and so does the introductory paragraph of your essay. Begin with addressing the question of the essay and express the contention for the same. It is this paragraph that decides the direction of your essay. You should aim for an opening paragraph that is absolutely clear and gives a punch. It is a signpost of what direction your essay would take and hence take utmost care of making it as effective as you can.
You can choose to begin with a little context, address the question, strike contention to be more effective, and then justify that content. It all begins with an impressive introduction.
Pay a Special Heed to the Length of Your Paragraphs:
There are some students who think that writing short paragraphs is a good way to be simple, lucid, and direct. They try to write as few as 2-3 sentences in the paragraphs. A good history essay is one that contains elaborative paragraphs containing all the details. So, the paragraphs need to be 100-120 words each. They should focus or should talk about one topic only but they should contain a thorough glimpse of that particular issue.
A good paragraph begins with a good sentence, should have an effective opening with a thorough explanation.
Wrap up with a Peppy Conclusion:
The last impression is the lasting impression and hence conclusion really matters. A good conclusion has two things it either reiterates the contention or summarizes the whole thing. So, your essay should have a polished ending and should not sound abrupt or simply awkward.
You can choose to summarize the whole essay and wrap up with what happens after that? A couple of effective sentences can wrap the entire essay in an effective manner.
Bibliography or Citing the Sources at End:
A history essay can prove to be a good one only if it has been appropriately referenced. Your essay has to be supported with authentic and dependable arguments and ideas. So, you should quote the citations or references of all the reliable sources from which you have taken help.
Referencing not only solves the purpose of acknowledging others but also gives you complete authority to your writing and gives an insight to your assessor about the amount of research done in carrying out that assignment.
Proofreading At Last:
You may have written a really wonderful history essay but if you do not proofread or edit your work, it would not impress the assessor as it may have a lot of typos, errors, grammar, or spelling mistakes that would put him off. It is good to manage your time well and complete your assignments a few days prior to their due date and leave adequate time to edit and proofread the whole assignment thoroughly.
You need to think about the terms like how would you improve the clarity of your essay, its tone, and structure, etc. Also, check out other things like whether you have repeated certain facts, are your paragraphs need to be expanded or cut short, etc. Read your essay in a loud voice and see where it can be improved further. You can seek the feedback of listeners.
That's it!! Write a great essay that can truly impress.
Some Important History Essay Writing Tips to Consider:
It should be written in the third person:
Refrain from using words like "I think…." or in my opinion, etc. Your essay should not reflect your personal opinion anyway. Good essays are the ones that should sound factual and rational. Wherever possible give citations, facts, figures, and statistics to endorse your contention.
Use Past Tense Only:
Try to write in past tense only. Always be careful about the tense you use. If you think you have used any other tense apart from past tense in the essay, correct it during proofreading your work.
Avoid Any Kind of Generalizations:
This is an issue with all types of essays but history essays, in particular, have this problem. To set your essay apart, it is good not to form general conclusions and avoid general examples.
Avoid Jargons and be Short, Sharp, and Punchy:
People love reading pieces that are simple, easy to understand, and yet effective. So, keep your language simple and sentences short. Cut down the sentences that seem to be too long to you while proofreading and try to give a punch to your sentences.
Use Active Voice:
While writing history essays, active voice is far more preferable to passive voice. For instance, you should write that Hitler started the Beer Hall putsch to take control over the Bavarian Government rather than writing the Beer Hall was started by Hitler to take control over the Bavarian Government.