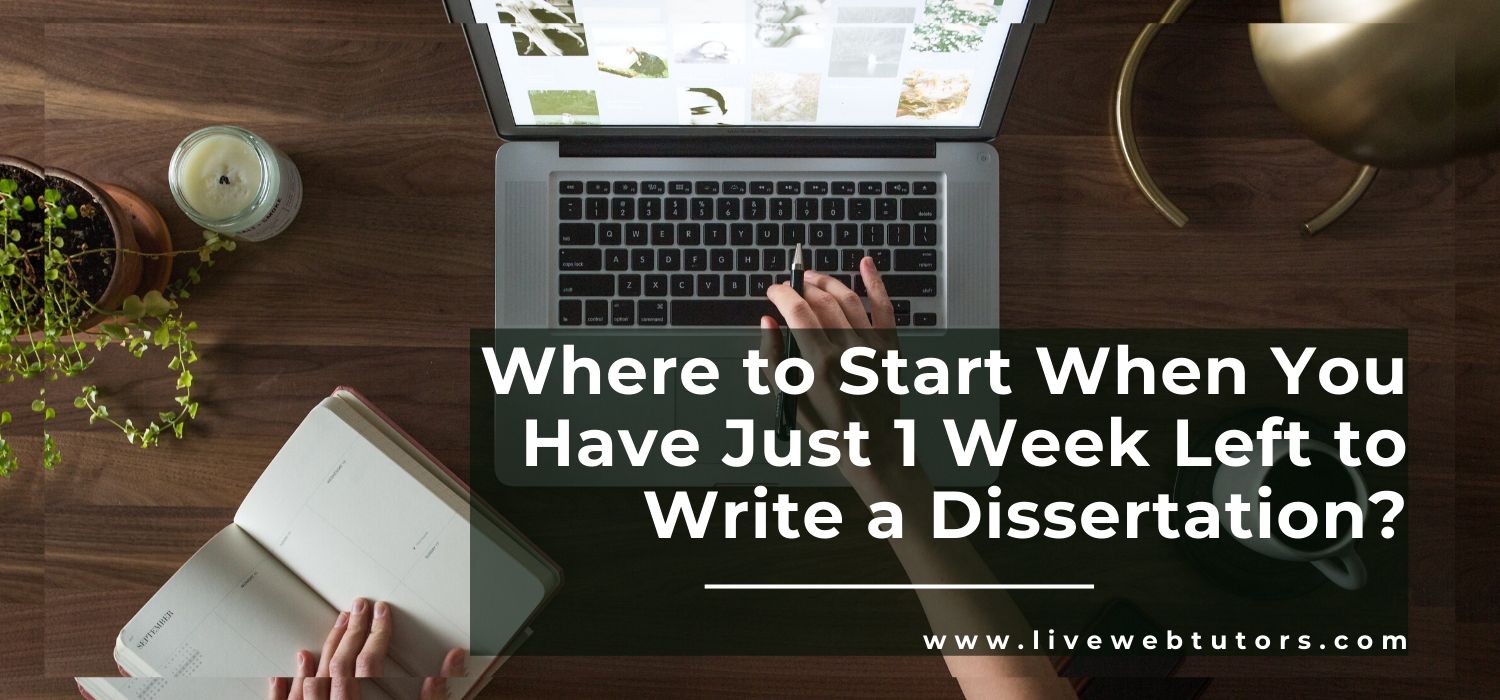 Have you been assigned the task of dissertation? Are you finding it tough to work upon a dissertation? Well, it is one of the toughest things to work upon a dissertation without any kind of prior experience. The complex structure and type of reading make it difficult for the students around the world to work on the respective paper and that too in such a short time period.
So, if you have been asked to work upon a dissertation paper and that too within a week, we have some tricks for you to make sure that you get it covered without any kind of hassle at all. Working on a dissertation within a week is not an easy task to do but, if following a proper approach it can work wonders for you and give you the grades you are looking forward to achieving.
So, all you need to do is to just follow the below-mentioned points and you will certainly be able to cover your top and complicated dissertation task within the given time period and that too without any kind of operations at all. Read along:
At first, it is very important that you organize your time accordingly so that you can work on it in the best possible manner. Whatever will be the needs and requirements of your dissertation, it is very important that you organize your work according to the given deadline and the number of words required. This will help you in working in a proper manner and getting the right results. So, if you have a 7 day left, you need to do proper planning for each and every day making sure that the last day you have your paper ready to be submitted.
Next, you need to move ahead with the proper arrangement of the respective paper. You need to divide the segments of your dissertation into small parts where you can work upon with much more ease. It will help you search the information with much more clarity and work on it without much of a hassle.
After this, you need to initiate with the writing part where you can begin with an introduction. This section has to be precise and always with all the aspects which can help the readers understand what the respective dissertation is all about. After this, you can move ahead with the body where you will be elaborating more about the topic and present all the research to work in a precise manner. This will help you in connecting with the audience and make your people much more interactive. Not only this, you need to endure a dissertation in a very precise way with the proper conclusion. It needs to be to the point and with a proper message why you have drafted the respective paper. You must not forget the thesis as well as it needs to be included with a proper statement that can make an impact.
After this, you need to proofread your paper thoroughly. Yes, you need to take a time out where you can go through the entire paper and check if there is any kind of mistakes in it or not. This will help you submit your dissertation without any kind of errors at all. Everything needs to be checked from grammatical mistakes to sentence structure and also the instruction which was needed to be followed as stated by the respective college professors. After checking with all these things, you need to submit your paper so that you can be sure that is perfect enough to get you the best of scores.
Lastly, if you are not so sure about being able to complete your assignment task in the given time period then, it is important that you look for a professional assignment help Australia service provider with which you will have a professional writer on board and then they will take complete responsibility of it. Yes, with the help of an online assignment help experts, you will be able to deliver the task without having to stress about single aspects related to it. They will initiate with writing and make sure to deliver it within the given time period and that too without any sacrifice with the standard of service.
So, these are the things which we need to keep in mind while working upon your task of the dissertation as it will help you complete your task within a week and that too without any kind of stress at all. Connecting with the right company will certainly prove to be a masterstroke as it will help you have your dissertation covered in the most convenient manner.
Why Us
We are a highly acclaimed online assignment help service provider with which you can always connect and help yourself with the best of experience. Hiring assignment writing service providers will certainly make things a lot more easier for you to have your dissertation writing covered exactly the way the professors have specified. The online assignment writing experts have a complete understanding of all the format which needs to be followed when it comes to working upon a dissertation task. So, all you need to do is to get connected to them and explain to them about your requirements. They will get it covered without making a single mistake.
Having assignment help experts on board will certainly allow you to breathe comfortably because they will be available all the time to cover your urgent writing task and exclusively help you in delivering urgent assignments. So, you must not think much and get yourself connected to them with which you will certainly cover your academic needs without much of trouble.
So, what is making you think so long, all you need to do is to give us a call and explain to us about your different types of dissertation writing requirements. Our my assignment help team will always take complete control of it and make sure that you have an excellent academic tenure. Get connected to us now!