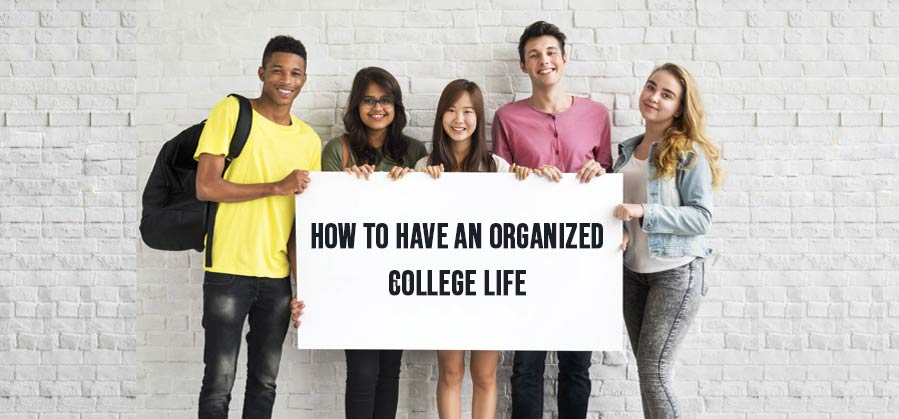 With a student entering the realm of college, a lot of things are going to change, and daily activities being one of them. Not only will you start living away from home and family, but will mostly be indulging into teaching, learning, reading, and writing important papers and lessons. Your world is going to surround a number of academic commitments that will be defined in accordance with your priority.
College can be responsible for altering not only your daily activities but also your sleep schedule, irrespective of whether you plan for one or not. You will be entitled to a number of commitments with friends, academic, activities, jobs and so on. However, one of the major mistakes committed by students is the lack of organization skills. If you too have just entered the realm of a university life, do not let this happen to you.
Hence, it will be extremely important for you to not only study well, but also perform a quantifiable manner of organization that will help organise and balance your academic life well. it is crucial to pay heed to a few organizational skills to help you stay focused and organized in college and manage your activities, academic commitments and time well. It is time to gear up with the best organization tips and skills that will help you stay focused and committed.
Tips to have an organized college life:
Get hold of a planner
Are you used to a planner during your school tenure as well? If yes, then nothing like it. It is extremely essential to use a planner to keep a prominent track of each and every essential date and activity of your classes. The planner can be efficiently used to track the assignment dates, major classes, social plans, activities, examinations and other academic priorities in a university. Ensure that you just stick to one single planner as if you have multiple planners by your side; there are odd changes that you might get confused which will make the entire objective of a planner fall out.
The planner needs to be used not only for writing down important dates but also to carry it around everywhere, even to your classes. In this way, it can help you write the dates down anytime and anywhere, irrespective of the place and time. However, do not forget to tick off the task that is completed. This will help you to stay compliant with the proceedings and enable you to stay organized and focused. Remember that writing down is simply not enough, and you should not procrastinate with an activity, instead of it right then and there. While working on assignments, do not forget to make use of a paraphrasing tool.
Stay compliant with the syllabus of your course
The syllabus will be received by you on the very initial days of your course. This can be utilized to purchase all the textbooks required during your university tenure. You can keep a track in any which way you prefer, like a folder. This will eliminate the struggles associated with finding the right folder when you are looking for. Make sure the textbooks are received by you at the earliest as it will give you greater success in the classroom along with offering additional expenses. If you keep the syllabus handy after ordering the textbooks, it can be largely useful to keep remaining yourself with the due dates of assignments. As a result, you can stay in place throughout the course along with having the syllabus handy by your side.
Organize your desk
Irrespective of the course or college you are attending, in order to stay organized, one of the very first things that you need to associate yourself with is a clean study space. Irrespective of the place you assign your study space as, you need to keep it completely clutter-free and clean. Make sure you keep only the things that are required by you and eliminate all unnecessary tuffs from distracting you while studying. The desk should have your laptop, a pen, water, class books, text books and a few more essentials. When you organize a clutter-free space your mind can also stay clutter free and focused. While organizing the desk, ensure that you have a laptop or a computer handy to work with your plagiarism checker and referencing generator while working on assignments.
Make a to-do list
While you might be bogged down with a number of academic commitments, it is essential for you to prioritize your work. This can be done with the help of organizing the tasks on the basis of the priority they are referred to. In addition to this, if you received tasks that can be done quickly, you can do them initially to get them out of the way and cut down tasks from your list to feel stress free.
Another kind of to-do list that is extremely helpful is creating a distraction to do list. While you are focused on your task and something irrelevant comes up, you need to simply write it down and not switch tasks. You can easily check it out while taking a study break. Do not forget to make a priority list for availing essay writing help, if you need any.
Track with a calendar
In addition to the portable planer you have, you might also get a monthly wall calendar as well. These are ideal for organizing and keeping a good track of bigger events such as assignment due dates and examinations. In this way, you can see keep a note of the upcoming commitments in your timeline.
Do not hesitate to go digital and seek help from technological advanced mediums, such as a phone or a tablet. This is particularly true if you are not a pen and paper kind of person. There are a number of mobile applications that can be helpful to organize the time well. Most of the smartphones come with an inbuilt calendar along with a reminder app. This will help to set reminders in accordance with the commitments you need to meet. It can also be beneficial to keep a track of finances, such as track activities of transferring and receiving funds and the like.
Go colourful
If you have always loved colours, well there is no stopping to explore them in your university life as well. This is marked as being one of the most important steps to stay organized where you can colour code your activities and commitments. You have a distinct colour for each class or subject. Not only will it be helpful towards saving your time, but also help you get the right stuff while searching for one. Additionally, you can also use colour coding for each class as it will help you to identify assignments better and efficiently manage your study time. This includes the usage of a specific kind of colour binder, a folder and using a different coloured pen for distinct subjects of your course. This will help students to keep track of each and every class separately. Additionally, you can also know whether or not you are fairing with each subject and course well.
Create and maintain files
Seek help from files to keep your college materials completely organized. You are suggested to make use of a folder having optimum number of pockets for the classes. Additionally, you can also have a distinctive notebook for the classes that will help you to stay a lot organized and will also refrain you from getting confused. Hence, no longer will your biology materials get mixed in your physics subject materials. It is essential to organize the materials on the dresser or bookshelf in accordance to the classes during the week. Once you are finished, you ensure that you put them at the back of the stack so that you can acquire the next important subject in the right order for the next week.
Gear up one night before
This is another important step to keep your college life organized where you need to gear up for classes the night before. The step will not only save you ample amounts of precious sleep time in the morning, but also help you to not rush with the daily tasks. Some of the tasks that can help you prepare a day before include packing the backpack for the next day and organizing everything including notebook, book, folder, and calculator and so on. You can also pick the outfit a night before and will offer you to try everything on. Moreover, if you have any chance to sleep and mess up the schedule in the morning, you at least know that you can always grab the backpack and are completely prepared.
Now that you are completely organized with the necessary skills to shape your college life, it is vital to get in touch with professional academic service providers at livewebtutors.com. The professionals will offer you a one stop online assignment help to solve the assignment well, irrespective of the subject you have in hand.