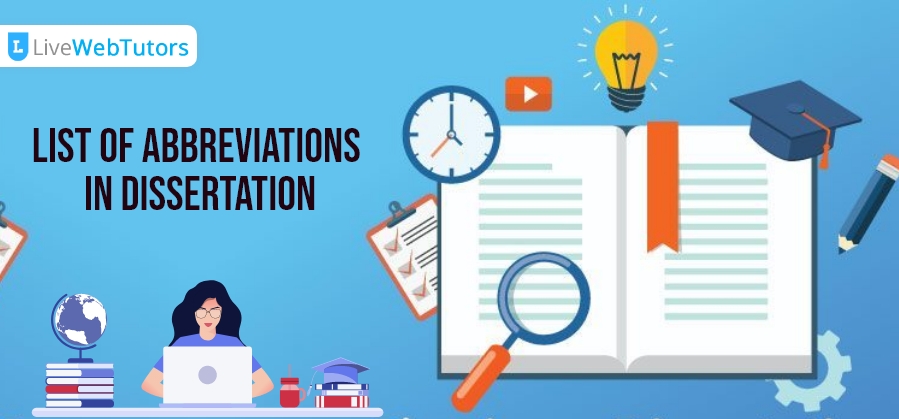 Students pursuing university courses need to prepare a fully functional dissertation for acquiring the degree. However students prepare the dissertation, students usually feel confused about including abbreviations, its list and the right usage. Abbreviations can be typically included in the table of content as enlisted in the beginning of an assignment.
Understanding an abbreviation:
An abbreviation refers to a short form of a word and a phrase which is made by deleting a few letters. If your dissertation comprises a long list of abbreviations, it tends to make a reasonable sense to define the necessary abbreviations in the list and in an alphabetical format. Abbreviations hence are short form of long sentences and if many abbreviations have been utilized, in such a case, you are recommended to prepare a list of abbreviations in an alphabetical form.
This enables readers to be familiar with plenty of unknown terms that they were not aware of before. This can help readers to thoroughly understand several jargons and a few terms which you might not well be aware of. Let us explore the long list of abbreviations for dissertation. But before diving into the list, let us analyse its placement and each details pertaining to it.
When do you need to place the abbreviations?
The list needs to be placed right at the start of the dissertation and post mentioning the table of contents. This list should be a part of the table of contents. If you have not been using way too many abbreviations, there is not a need to offer the entire list. While enlisting the abbreviations, you can seek support of a paraphrasing tool to rewrite a particular context. Let us explore a few examples of abbreviations in dissertation:
How to make use of abbreviations?
While preparing the list of abbreviations for a dissertation paper, it is recommended for the author to comply with a few rules and regulations.
While utilizing an acronym, you need to write just the first phase while putting abbreviations in parentheses. After having done with the procedure, you can make use of the acronym in the entire content. If you utilize a few abbreviations, there is no need to include a list, instead adhere by the following guidance tips to define the abbreviations within a text.
Making use of acronyms and abbreviations:
There are multiple rules of using abbreviations in a particular dissertation. While using acronyms which have been typically formed with the help of the first letter of a work in a phrase, you need to write down the first occurrence of phrase in the full form. Along with this, you also need to place the abbreviation right in the parentheses and immediately after placing it. The acronym can then be used throughout the entire context. A referencing generator can be used to organize and keep a sustainable track of all sources that has been referenced in the academic paper.
However, there are exceptions to this rule as well, and the exceptions being extremely common acronyms which aims to replace the phrase in regular use. However, if you feel confused, it is always a safe option to write the entire phrase in its full context.
List of Abbreviations in Dissertation:
A list of abbreviations used in an academic dissertation:
| | |
| --- | --- |
| Abbreviation | Explanation |
| Assoc. | Association |
| Corp. | Corporation |
| Ltd. | Limited |
| BKPR | Bookkeeper |
| Dr | Doctor |
| E.g | For example |
| AA | Alliteration and Assonance |
| ACS | Accrediting Commission for Schools |
| CDRCP | Contraceptive Development Research Center Program |
| EBICS | Emergent Behaviours of Integrated Cellular Systems |
| FSC | Fundamental of Science |
| HKEA | Hong Kong Examinations Authority |
| MEPE | Mechanical and Process Engineering |
| ADB | Asian Development Bank |
| ANR | Assisted Natural Regeneration |
| AP | Action Plan |
| CEMP | Construction Environmental Management Plan |
| EA | Environmental Assessment |
| EAMP | Environmental Assessment and Management Plan |
| EIA | Environmental Impact Assessment |
| EIS | Environmental Impact Study |
| EPF | Environmental Protection Fund |
| EPL | Environmental Protection Law |
| NBCA | National Biodiversity Conservation Area |
| NRE | New and Reusable Energy |
| GMS | Greater Mekong Sub-region |
| NRE | New and Reusable Energy |
| WHC | World Heritage Centre |
In addition to the above mentioned list of abbreviations, there are myriad abbreviations as used in a dissertation paper. While you are using the APA style, there are several additional requirements for using abbreviations in the academic paper or in dissertation. Hence, depending upon the style of citation you have chosen for your dissertation, your usage will vary accordingly.
Professional assistance at livewebtutors.com
If you are confused about using the right abbreviation for a dissertation, you can always seek the professional guidance of an eminent academic assistance service provider. In addition to having an in-depth knowledge of the right list of abbreviations to be used in academic paper, there are several other aspects in which these academic professionals excel and help students garner the right kind of assistance and guidance. Let us look at a few of the most beneficial ways in which the professionals at livewebtutors.com can help students write a well crafted dissertation.
Top grade quality paper:
If quality has been your concern since a very long time, it is about time to bid an adieu to the pertaining issue. With the help of expert and knowledgeable professionals, you are just a step away from procuring highly defined and valuable quality papers, of the highest knowledge. These are written by expert writers who aim to redefine your academic paper and success at your university course.
100% authentic dissertation:
It is quite a common norm to witness students struggling with delivering a completely unique assignment. This is usually due to the unavailability of unique resources and citation styles that prevent a student from delivering a unique dissertation. However, the professionals make it a dream come true and offer online assignment help with incurring zero plagiarism.
Round the clock availability
Along with enlisting the abbreviations in the most precise manner, the professionals also adapt themselves to offer round the clock assistance to students all around the globe. If you have been worried about procuring academic help at the wee hours of the morning, worry no more. With the help of the experts in the business, you can now avail essay writing help at any point of the day, irrespective of the need and assignment kind.
Genuine assistance
There are varied providers in the field offering unreliable assistance and fooling innocent students for money. However, with these expert professionals, it is not the same story. This group of experts are completely reliable and offer genuine assistance to help students acquire most from the prices paid. You can try out their services and acquire a plagiarism checker to check the entire context and attain a completely authentic paper.
Feel free to get in touch with livewebtutors.com and watch them bring your dissertation to life.