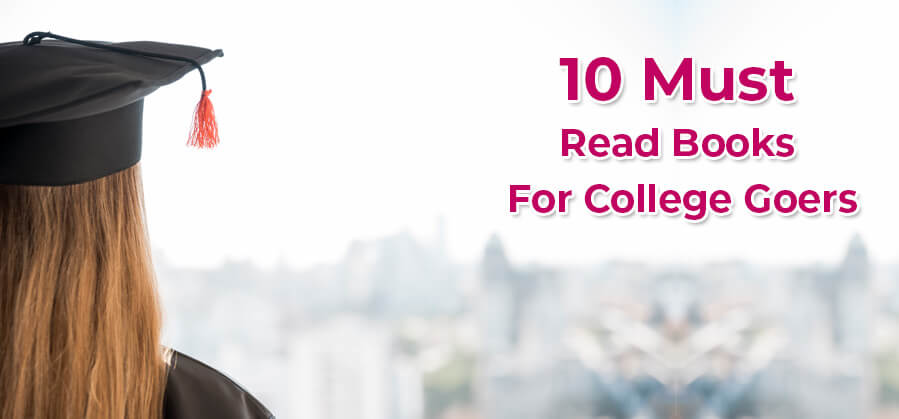 College students are in a transient stage where they are mature from the school level student but still immature to handle many of life's tough and complex situations. They do not know to what harshness will they be exposed to in future, but they should be prepared to take care of themselves and how to deal with any such circumstances involving complex human feelings. Books are the best way to read the different aspects of this complex mind. Among thousands of books published and stacked in the libraries, only a few of them are worth reading. Just a few books are such from which you can learn something and draw inspiration. Livewebtutors shares a list of some books which are worth reading. They are mostly referred to college students for reading without fail. We hope you will enjoy reading them:
Crime and Punishment by Fyodor Dostoevsky
Dostoevsky can create a deep impact on his readers by his writing. The story explores the theme of salvage of a criminal through self-realization and self-discovery. Talking about Dostoevsky's genius in writing, the story describes the mental anguish of poverty-stricken student in Russia who kills a deceitful pawnbroker for money. He was imprisoned. After some time spent in jail, he undergoes self-realization and repents for his misdeeds.
The Brothers Karamazov by Fyodor Dostoevsky
This is another piece of work by Dostoevsky. The Brothers Karamazov is a complex spiritual drama which highlights all the characteristics of human morality. The storyline is woven around the subject of patricide and aftermath of such a grave sin.
One Hundred Years of Solitude by Gabriel Garcia Marquez
One hundred years of solitude deals with magical-realism presented in the best way. It has a subtle storyline presenting the true essence of a family life based in a fictional setting. It tells about the importance and the value of friends and family. The extraordinary events and characters are woven into a series of unexpected fictional twists. García Márquez intends to deliver a message that explains a true history.
The Kite Runner by Khalid
This is a touching story of the relationships of a man with his father and his half-brother. This emotional story has intricate cords of love, nostalgia and betrayal woven together. It has a series of tumultuous events, beginning from the decline of Afghan monarchy due to the armed intervention of Soviet Russia, the migration of many Afghans to Pakistan and the USA, and takes through the rise of the Taliban government.
Student life is incomplete without reading about a complex human nature captured perfectly by German philosophers, especially Kafka. The Trial is a story is about a man who was arrested and prosecuted by an inaccessible authority at a faraway building under construction, but surprisingly he (and even the reader) is unaware of the nature of his crime, as to why he is being summoned for the trial. Find out what Kafka holds for you in this book!
Tropic Of Cancer by Henry Miller
The book 'Tropic of Cancer' depicts how an efficient style of writing can juice up plain sentences. The book largely describes immersive meditation. Miller mentions his experience living a nomadic life in Paris, when he was a struggling writer and where he often faces problems like hunger, homelessness, loneliness and despair.
On writing by Stephen King
The American author Stephen King's 'On Writing' explores the art and the craft of writing. The book is a memoir by Stephen King that describes his experiences as a writer and relays his advice for novice and aspiring writers. He talks about the importance of a good opening line and likewise many more tips about good writing.
What I Talk About When I Talk About Running by Haruki Murakami
The story unveils the challenges and hurdles faced by the author Murakami while he performed in long-distance running. The subtlety with which he has linked the challenges of running to the skill of writing is worth a read. He has described how practice of running had shown him the ways to overcome the challenges he faced as a writer. You can find an interesting connection between running and the art of writing.
The Stranger by Albert Camus
The novel is about a person's indifference to his society marks him as a stranger to his environment. Meursault's indifference to his mother's death shows his emotional detachment from his environment and the people around him. Meursault is also a truthful person, who speaks his mind without regard for others. After reading this novel, you can imagine the mind of a person as to how he stands with his personal choice and how indifferent this world is to your choice.
Catcher in the Rye by J. D. Salinger
Catcher in the Rye narrates story of the protagonist, a teenager boy and his self-discovery. The story conveys the deep philosophy of life in a simple manner. Enlisted as one of the best-authored pieces of work of the 20th century, the New York Times has remarked that the book is "an unusually brilliant novel". The top 10 books enlisted by us are worth reading for every college student. They will teach valuable lessons of life and develop your outlook, that will be precious for your life beyond the college campus. Livewebtutors is one of the best companies offering online assignments help services at affordable rates. We believe that reading these books will help you to develop a mature outlook and also add impetus to your thought process. The books listed here are quite thought-provoking and keep you close to the real world without offending your feelings. We hope you have a good read.