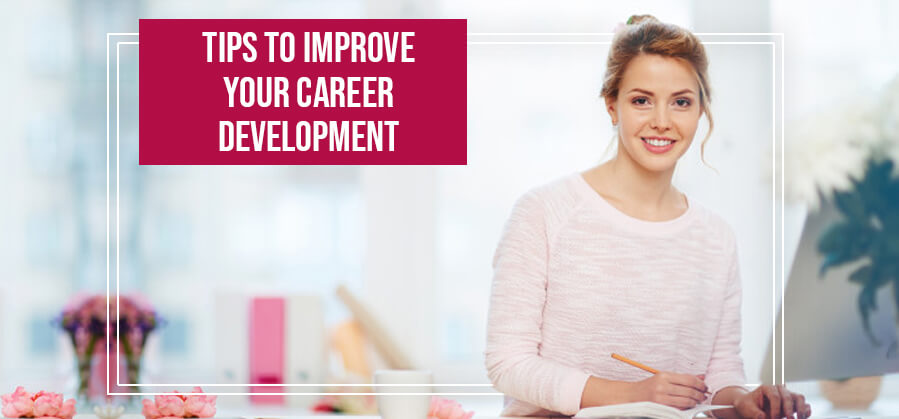 Stupefying Tips to Improve Your Career Development
Building a successful career has become crucial and it's the need of every other person. As per a study, people who are growing fast follow some kind of a similar pattern. They are able to understand their competition and then plan on to move ahead. The main step is to get the picture that we are responsible for our own actions. Career development is considered as a lifelong process that includes decision making, the continual addition of knowledge about the surroundings, and self-exploration.
For some students, choosing the right career is like holding the staring wheel of a battleship. They undergo various career changes in their lives. It becomes essential for such students to understand how career decisions are made. It is good to explore but wasting time in the wrong places and not improving skills is unadvisable. To pull students out of this issue, we have come out with some mind-blowing tips which will help students to improve their career development.
These tips also include points which professionals inculcate in their own lives.
Set your Goals
We all dream of achieving something big in our lives. But are we actually working towards it? The first thing is to have a dream and a clear vision for your career. There is only one life gifted to us, make sure to use it to the fullest. Most of the people are not able to succeed because they choose the wrong path. To develop your career, start with defining your ambitions and goals. It is true, that goals may change with time, but this doesn't mean you don't start.
Rather than visualizing, start writing your goals will help you fulfill your dream. Writing helps in actualizing your vision better. Also, prepare a list of things where your energy is getting wasted. Compare where you can apply this energy and gain profits. Divide goals for a year, month, week, and the day. This is how your mind will start focusing on your dream and will stop diverting itself. Successful people who are now satisfied in their career have proactively worked towards their goals.
Keep working on your Skills and never stop Learning
With passing time, students stop working on their skills just because they think it's nothing to relate to career development. But, this is not right. When you work on your skills, may it be soft skills, technical skills, sports, etc, you are taking one step towards improving your career development. When your skills grow, you gain more experience. Believe in your decisions when they are related to gaining knowledge of new things and self-development.
You may find people in this journey of self-exploration. Stay till the end with the people who take you motivate you towards achieving your dream, and step away from those who distract you.
Learning new things and polishing your knowledge bank won't harm. It will only lead to an improvement in career development. Students need to work on their skills. Join some training programs or maybe read books or online blogs and articles. Practice these skills as much as you can. Find out skills required for the career you are aiming at and start developing. If you are not improving yourself day by day, then you are moving backward.
Gaining knowledge of current demands, you are becoming indispensable. It means, bring out that extra appraisable factor in you which will help you stand in the crowd. Every year more than thousands of students are getting their degree in your opted field. If they and you have passed out with the same degree, then what is the difference between you and them? The difference can be the skills that you attain by attending any training, short online courses, etc. Become capable and success will follow.
Work on your Interpersonal skills
Limiting yourself within a circle will not help in developing your career. You have to strengthen your interpersonal skills. Talking with people around you will help you gain knowledge. Start by offering some help or maybe just discussing things in common. This is how you start an interaction. Work on your communication skills as it is an important part of achieving a successful career. Strong interpersonal skills play a vital role in gaining the respect of people around us, who are important. They will notice you and then this conversation will lead towards various other doors. Maybe people will want to collaborate with you.
Be friendly, personable and outgoing. This is how it works, two people talking with each other, sharing ideas and then working together. You also need to improve your listening skills. It is important to listen carefully to what others have to say and remember those points if you find them useful. Work towards becoming an effective communicator.
Seek a Mentor
A good mentor is a person who has achieved the success in his/her own life which you seek. A mentor who has faced obstacles himself and is ready to share his experiences with you. Experiences and guidance about how he was able to overcome those challenges without giving up. Develop a relationship with your mentor and start following his guidance. A Mentor will provide you information that you need to improve your career. Choose wisely, as this person will be guiding you throughout.
Your mentor can be a senior who now is working at a very good level or a professor under whom you can work and seek guidance. Your mentor can be your parents or any of your family members, who are into the same field that you want to move into. Following a mentor makes things easier for you. Your mentor will be there for you showing you the right path.
Gaining on someone else's knowledge is a great method to sharpen your mind and open up new opportunities for yourself. Ask your mentor to point out your mistakes and help you improve in areas where you lack behind. Don't worry about asking too many questions. Your mentor will be happy enough to help you. Consult your mentor before taking any big decision.
Build a Strong Network
Students need to learn the techniques for building a strong network. One of the techniques is to attend training sessions, seminars, conferences, professional meetups, etc. Professionals and experts always visit such places, and this is the best time and place to meet them and make contacts. Another option is to join an association related to your professional aspiration. It will help you to mix up in this professional circle. Meeting people who work in your intended field will lead you towards insights into that profession. Gather contacts and build your network.
Make a list of people in your contacts. Some of these people will be willing to help you out professionally. How many times do we actually look into our existing contacts and try to approach them? To develop your career, it is important to have the right set of people in your circle. Building a network requires knowing people, developing a conversation, getting to know each other, portraying confidence, and exchanging numbers. The number of contacts you develop depends on your active participation in various activities like visiting seminars, conferences, professional communities, commercial projects, etc.
Be Seen
To improve your career development, you must be seen first. You may have done various courses, training, etc. but how will people know that? Start promoting yourself. For example, if you aspire of becoming an actor, then you need to tell people how you are the best candidate. People at influential positions need to know what extra skills you hold and why they should refer you. Tell about your major accomplishments, spread a word about your small experiences regarding the profession. You can do that through social media platforms or via professional platforms.
Create a positive reputation among your professional network. Show them how cooperative, professional, and dependable you are. For this matter, being presentable counts. The first impression is the last impression. If you want to grab on promotion in your career, then the right thing is to start working towards it. Work out of your comfort zone, start taking initiatives, and many more such things which will showcase that you are the right candidate for a promotion.
Another point to be noted is to build trust among your superiors. It takes time to build trust but, once your superiors see that you are working hard, they will automatically start trusting you. For students seeking successful careers ahead, building trust among people is important so that they can invest their time in helping you.
Conclusion
It is easy to dream, but it needs hard work and patience to achieve what you aspire. To really improve your career development skills, you have to walk the road of obstacles and challenges leaving your comfort zone aside. After these challenges, success is waiting for you. By applying above mentioned tips in your life, you will surely win. Remember, it is only you at the end, who can take yourself towards a developed career.