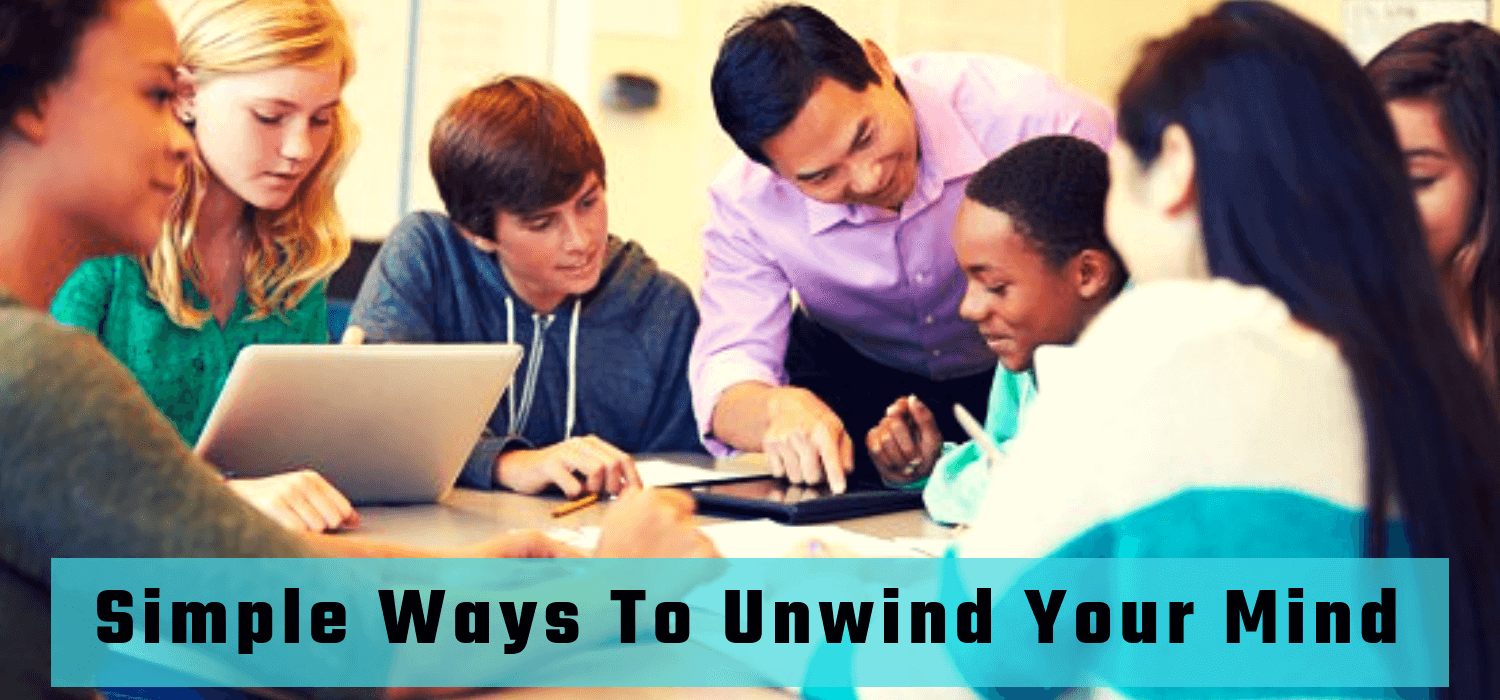 If you haven't been feeling the heat because of the assigned task and on looking for ways to feel much more relaxed then you are just are the best place because here we are going to discuss the simple ways with which you can be the stress and unwind your mind. The stress of exam and assignment preparation is literally very much huge for the students to handle. It literally impossible for them to deal with the respective pressure they face due to the respective task of assignment and also because on the upcoming examination. With so many other tasks in the head already there, it literally becomes a big burden when they're asked to prepare a subject related assignment or there is an examination nearby. Taking so much stress is literally very harmful to the students and we need to tackle it smartly to get rid of their respective task with ease. Not only this will help them prepare for the examination well and get great grades but also they will be able to deliver all the task in the given period of the deadline. Having a clear mind and organized thing will keep this to the in so much more and better position and help them deal with all the situation without any sort of knowledge was nice or stress.
Below-mentioned of your points which we are going to explain m it to you so that you can help yourself unwind your mind and beat the stress with ease:
It is very important that first, you understand the requirements for which you need to work upon. So, if you have been working on an assignment, it is very important that you get a good hold of the respective topic on the subject in which you need to work upon. Similarly, if you're preparing for the examination it is very important you need to get a good idea about the syllabus. This will help you organize all the things and prepare it accordingly.
As soon as you get complete hold of the information which needs to be taken care of weather for the assignment or further examination, it becomes much easier for you to take it ahead. This will allow you to acknowledge what are the materials you need to attain so that you can move ahead with the execution. So, you need to collect all the required information for your respective assignment or for the repression of the examination and get yourself going.
Making notes about the things to do and they were all done will surely keep it organized. There are a number of times when you did not keep a track of the things you have done and needs to be done and resulting in you getting a panic attack at the last moment. So, to keep the panic attack at the bay, you can always make notes of all the things you are covering for your respective needs of exam and Assignment Writing.
You need to have the best and Whymant possible for yourselves to work upon your respective needs of exams or assignment. Yes, it is very important to have an excellent atmosphere so that you can get your task completed quickly and also with perfection. There is a number of places always with you can take the route of like studying with a friend or group study or going to a coffee shop or library or having a separate study room to get your work completed.
Taking breaks is also equally important and relaxing gives you the breather you need to prepare for the next assignment or examination. So, you need to organize your schedule in such a way that he gave enough rest yourself with which you will be able to prepare for the respective task with much more perfection.
And when it comes to the preparation of an assignment or examinations, it is very important that you remain hydrated so rather than taking a lot of coffee or tea, it is very important you drink as much water as you can. It will not only keep you active word also hope you remain hydrated for a long period of time.
Do not miss out on eating healthy food you because you're drinking or eating too much fat you are heavy food will make you pass up an equally lazy so, it becomes very important to have fruits or juices during the time of examination or assignment preparation.
The most important of all is to sleep well and you must complete your sleep whatever be the situation. Before going to bed it is important that you revise about the respective staff you have prepared for and then you need to sleep well to keep yourself fresh and active all round the clock.
So, these are the things you must not forget while you have been burdened with the task of assignment and examination. This will keep you relaxed and you will have all your task organized and complete it on time.
Why Us:-
For others, we have always so the students with quality educational related services so that they can relax and beat the stress with ease. We will understand their needs and requirements properly and then help them with quality writing services and also help them understand the subject well so that they do not feel the need during the preparation for the examinations. Being one of the best assignment help Australia service providers in the business, you can always trust your assignment help yourself with the best of services which can take your anger higher and give you a great platform to succeed. We will design our assignment help services according to your respective needs and help you with exceptional people which will surely fulfill your A+ grade desire. We make sure that all the students searching for my assignment help services get the best assistance from outside and make sure that they come back to us again for all their education related needs. So, connect with our online assignment help professionals now and get yourself up in the rankings!