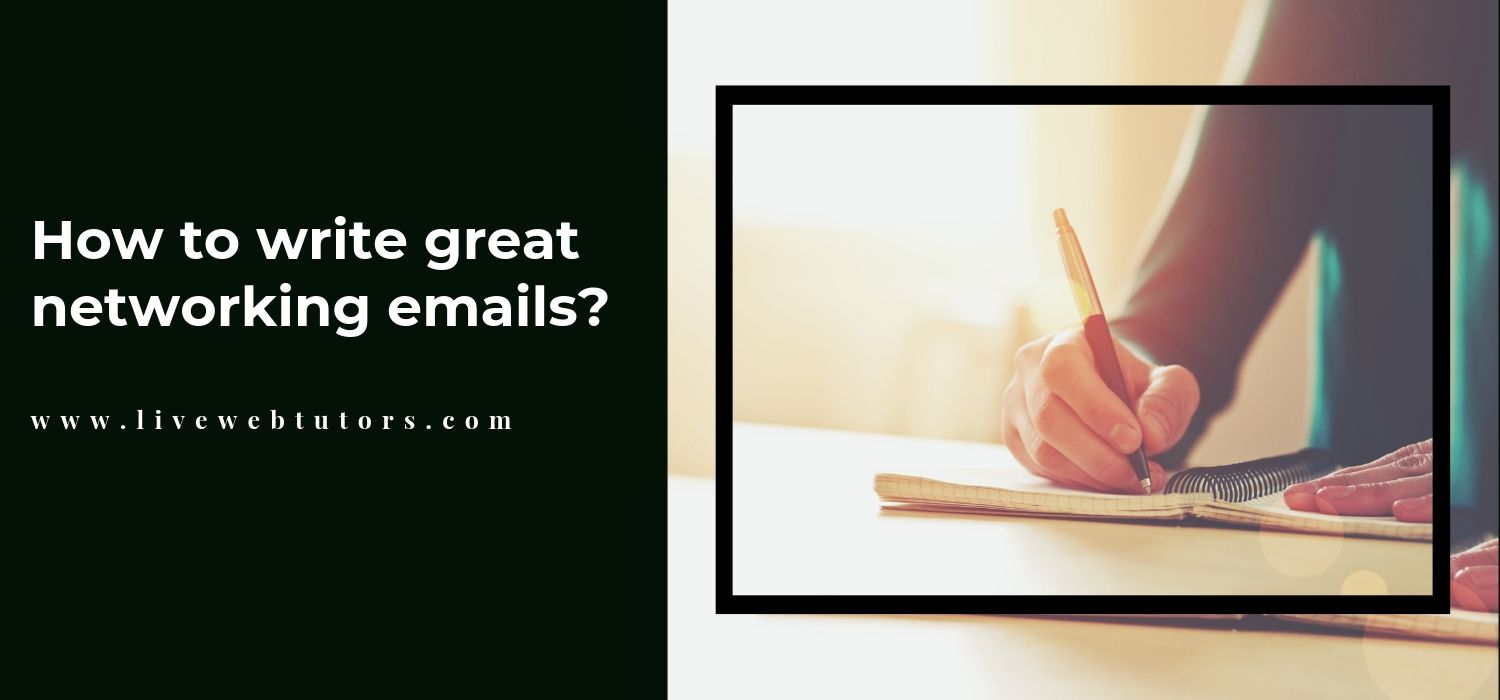 Networking is all about relationship building. This relationship is built through written communication, either through mails or through a letter. Nowadays people use networking to expand their business or get a new job through personal connections. Networking is part of marketing. In today's date marketing is very essential for a business to grow and prosper. Networking is not always a favorite activity, especially for cold contacting people. Sometimes reaching out to someone may become a little awkward. However, it is very important to connect with people as it is one of the activity which will help you grow professionally.
Followings points must be kept in mind while writing a networking email:-
1. Appropriate subject line:
Emails without an appropriate are often ignored or viewed as suspicious. A subject line must depict a short message about the email that is to be written. This gives an idea to the recipient of what the mail is all about. You can also include the name of a person who has referred you to the person whom you are mailing. One must keep in mind that the subject lines are free from any spelling error. A subject line containing error is often viewed as spam and hence ignored.
2. Referral contacts:
There are times when you get a reference to someone from any other person. You must keep in mind to include the name of that person. This increases authenticity regarding the mail written and the message to be conveyed. This also enhances the validity of your relationship with the person who has given his reference for the desired work. After all relationship building is one of the key objectives to be built through marketing.
3. Professional style:
It is very important to keep in mind that your email does not contain any words that are ambiguous or easily misconstrued by the reader. Hence, it is very important to draft it only when you are in a good mood. Often bad mood of a person is reflected in the words mentioned. You would not get a positive response from the reader. Business people don't have enough time to go through the entire mail. It must be kept in mind that the mail is written concisely. All the important points are written in a bold format. You must frame your message with a friendly opening and closing. However, stick towards the professional method of writing it.
4. Clear and Concise
The words mentioned in the email must be very clear. There should not be any ambiguity thus leading the reader to infer double meanings out of it. This would lead to the reader to be confused and hence you may get an unsatisfied reply. You must avoid any information that is not important for the reader to know. Draft the email in such a way that it becomes very easy for the reader. They would appreciate your being mindful of their valuable time.
5. Avoid inappropriate phrases
Keep in mind that you avoid inappropriate phrases. This may lead the receiver to develop a negative attitude concerning the email received. He may become unwilling to do business even though you might have all the necessary resources to do it.
6. Do a research
Before reaching out to any person, one must make sure that they understand what the recipient does. The email to be written must have a relation with the work of what the recipient does. Therefore, it is very important to study the entire business of the recipient. Your email must also include information about how the recipient would be able to work with you and thus reaching a common goal.
7. Say thanks.
On closing your email, thanks to the recipient in advance for their time and consideration. It is always appreciated as it shows your humble nature towards the recipient. You might also be willing to have further communication concerning the objectives of your work. Be flexible enough since you are asking someone's time.
8. Personal Meeting.
Networking through emails or letters are very important. However, a personalized meeting generally has a greater impact. You may also invite the recipient for lunch or dinner where you can discuss your topics and explain in a detailed manner your objectives and goals.
9. Follow Up emails.
There may be times where you do not get a proper response. Maybe the recipient is busy or maybe he is not interested. Follow up helps you in confirming whether your message has been duly communicated. You can do follow-ups once in a week or a month. This depends upon the nature of your work, your deadlines to be met or the weight of the recipient.
Why us-
LiveWebTutors is one of the leading assignment help provider company. We provide the best assignment help services for students who are looking for their completion of the assignment professionally. We have a team of experts who has vast knowledge in diverse field. They are committed to extending their professional guidance to students. We expertise in the completion of your assignment within the due date specified. Each of our academic writers is selected based on their skills, knowledge and their analytical ability to complete the task professionally within the deadlines specified.
We strive to provide the best service to students who are looking out for such assignment help Australia companies. Our process of work is very simple. You just need to fill up a form on our website, specify the work to be done, mention the required information and make the payment. Apart from these students also get a facility to approach us for any amendment in their work required.
We have delegated a separate customer service team for the students who are looking out for my assignment help. Students can contact us at any time. Our student-friendly procedure of work makes it very convenient for the students to get their issues sorted out easily.
No matter what the subject matter be, our online assignment help department will do that for you easily. We ensure you to provide a 100% plagiarism-free document. We endeavour to deliver complete solutions before deadlines