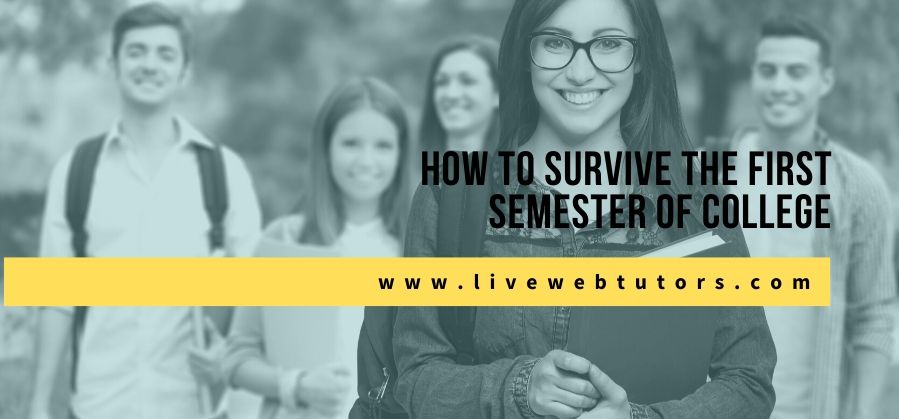 7 Useful Tips to Survive First Semester of College
Entering to a college after high-school gives you a sense of being grown-up all of sudden. However, this feel-so-good factor comes with a real challenge and that is to face semester exams which become no lesser than an uphill task especially for the first time. So, what to be done? How to cope up with the pressure and stress of the first semester exams?
First thing first, if you are overwhelmed with assignments, let a professional online assignment help service take the onus of doing your assignments and you should begin to focus on your exam.
Given here are a few useful tips that can help students navigate their 1st semester exam successfully. Here's a quick view:
Stop Procrastinating, be Prepared and Get Organized:
You need to get a fact straight into your head that college academics is totally different from the high-school. Teaching faculty begins to treat you as a grown-up and expects you to be better prepared. They expect students to follow the course outline with care and expect them to meet deadlines given by them right at the beginning of semester.
There would no longer spoon-feeding in the college and you are expected to make notes of what all is being taught in the class. So, as a rule of thumb, you need to be prepared and avoid procrastinating altogether. If there are assignments like writing essays or other similar sort of articles, you can pass this task to professional essay writing help service or buy assignment online to save time. It is good to make use of a planner and write down the list of tasks to be done along with the dates. Getting organized will help you a lot.
Keep in Constant Touch With Teaching Faculty:
They are experienced and like you they have dealt many other students in the past. It is good to be in a constant touch with them to know the scope of course, important questions, the best study material and several other do's and don'ts. It is good to schedule an appointment with the concerned teaching faculty and take notes about their advice.
Learn to Manage Time and Carve Out Extra Time for Studies:
It is important to note that college courses are much more challenging than your school days. There will be a lot of reading and writing involved. You need to manage your time well. Instead of piling up your course material and getting stressed at the eleventh hour, you can choose to be well-organized and manage your time well. Take notes in the classes and go through them on a daily basis. You need to take out an extra time for studies on a daily basis, aim towards learning and understanding the concept of topics rather than just cramming them.
Resist the temptation of putting off things to the last hour and you would be able to manage things in a better way and save you from a lot of stress. You can choose the hours in which you can feel least deviated and most focused.
Choose to Stay Well and Eat Healthy:
More than physical exertion, it is the stress among the students that do not let them prepare well for exams. So, they need to do away with stress which is possible only when they are well prepared. However eating healthy and a well-balanced food can keep them in a good health. At least when exams are round the corner, they should take good nutrition and avoid eating junk or oily food that can deteriorate their health. Similarly, staying active is equally important during the exams.
Most of the colleges offer campus health services that can exactly point out if you need a therapist or a counselor. Whether you are experiencing an emotional issue, depression, addiction or eating disorders etc. you just do not have to worry about all you need to do is to seek their services time to time.
Nurture and Develop On-campus Relationship:
Prefer in getting touch with your seniors and develop a relationship with them as you would be new to college you will have no idea about who would be the best professors, what would be the format and style of question paper, the best professors and which questions to attempt for getting high grades. Your seniors will be the best support for you and hence developing a relationship with them will be helpful. Try to communicate, interact and nurture a bond with your seniors.
Seek Online Help:
Gone are the days when an intricate issue or problem used to land you in trouble. These days you can seek help online to get any sort of query or problem resolved. However, difficult your topic may be, there will be hundreds of demonstrative videos available for the same on Internet. So, let Internet become your guide whenever you are caught in some trouble and cannot access any guidance for the same.
Go in for Group Studies:
It always helps! If you have fears and apprehensions in mind or if you are confused going in for group studies is the best thing you can do. To survive your first semester exam in college, be in the group of your peers who are preparing for the same. They will also have the similar set of queries or issues and working together on same problems is more fruitful and effective.
You need to remember that the decisions that you make during the first semester of your college has a huge impact on the rest of your years in the college and can make or break your future. So, learn how to strive to thrive and this pays! Management is one of the most commonly chosen academic disciplines, if you want to put off your burden when your first semester is drawing near take the assistance of management assignment help Sydney service.