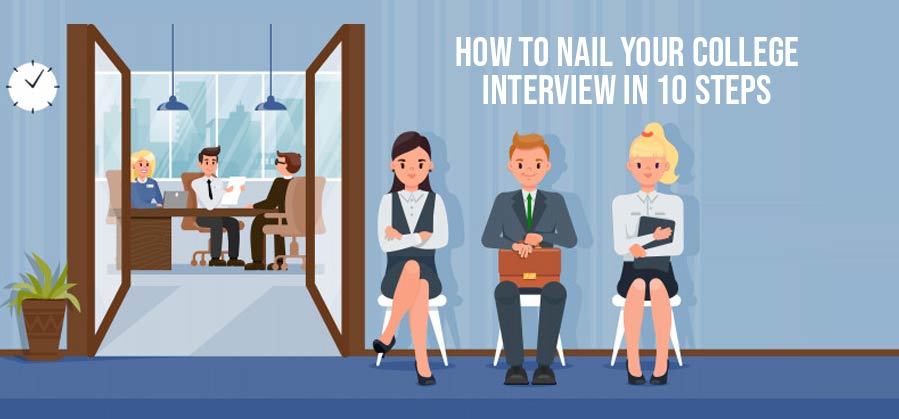 Do you know that college interview is quite different from any other interview? It is mainly the discussion between your course leader and you to decide that which course is right for you. If you want to enjoy studying in college then college interview is important part. Hence, this is an essential part of the selection procedure.
You must regularly check your mails in spam and junk folder. The colleges tell about the interview on your email id. The interviews vary as per the course type.
You must be ready to answer certain questions such as
What information you have about the subject and why you are applying?
Why do you have interest in the subjects?
Why you want to take admission in the colleges?
What are long-term and short-term goals?
What you want to do in your spare time?
If you have any gap between your employment or schooling then why there is a gap?
Why the course is suitable for you as compared to any other applicant.
What is the biggest challenge?
What is expected from you?
You must show that you have knowledge about all aspects of life in college. You can talk about various things such as meeting new people, and managing finances or how will you adapt to changes between college and school. The interviewer want that you must talk honestly about your achievements and choices. You must also tell that what thing has inspired you. You must share that you are passionate and enthusiastic. If you have not got the desired results in exams then you must tell that what has occurred and what are the learnings.
You can ask the interviewer if you have any queries. You can ask as much as you want but show interest. We are discussing certain tips that how can you nail your college interview.
Dress- You can leave an everlasting impression on the interviewer with the appearance. You must wear formal attire before going to interview.
Handshake- You can tell about an individual the way they handshake. You must do assertive and firm hand shake. It shows that you are confident.
Prepare answers- You must prepare for the college interview in advance. You must go through all the popular questions. You can take the help of a parent or a friend and go through questions. Ask them to play them the role of interviewer and you are the interviewee. They will help you to get the right answers. You can review many questions.
Remember- You must prepare in advance for the mock interviews but don't memorize the answer. You must have natural flow in your conversation with college interviewer. You must avoid writing about the responses. You can devise the answer as per the need of the hour.
You can come with your own questions- You must be ready with two or three questions. You are showing the interest in their college so you will get the answers of your questions.
Posture and Eye contact- The eye contact is quite important. It depicts that you are interested, present and engaged in the interview. If you glance somewhere else then it seems that you are distracted or nervous. You must sit straight. You must maintain the eye contact and be in the conversation and moment. You must suppress your tricks such as jiggling the leg and picking hem of the sleeve.
Be yourself for nailing the college interview- The interviewer have seen your scores, transcripts, accolades and now they want to meet you as a person. So, try to be yourself. You must be honest.
Best practices and etiquette- You must dress well and have a genuine behavior to make the first impressive.
Why are college interviews important?
The college interviews are important for both schools and students. The universities and colleges utilize the process of interview to gather information about students. They want to gather information about applications and transcripts.
The students can use interview to collect information about prospective schools, show personality and prospective schools.
How to prepare for interview?
You must start preparing for interview in advance. If you prepare well in advance then students become comfy with the procedure and increase the confidence.
Some weeks ago before exams- You must keep yourself updated with the news and also remain updated with the current events. Your interviewer can ask questions on current news. You can think about interests, goals, interests and extra- curricular activities. You must also research about the schools for which you want to get interviewed.
Week before interview- You can prepare the questions that are required to be asked with the interviewer. Let your family member or friend ask the questions at the time of interview. You must also select the appropriate outfit or buy new one if required. You can get the directions. You can prepare resume about required information and extra-curricular activities.
Day before interview- You must review the details about the college and prepare yourself to talk about it. You can also practice to answer all the required interview questions. You can also take the printout of resume and any other details or paperwork. Also, get a good night sleep.
Morning of interview- You must consume a good breakfast. Also, look at the campus map and directions to ensure that the selected route is correct. You have to make sure that accident or unexpected traffic must not affect the travel. So, make a habit to leave early from house and arrive at least 15 minutes before scheduled time. You can keep your phone on silent mode or switch it off before the time of interview.
In week after interview- You can also send thank you note through email. You can email or chat with following the questions.
What to wear?
Before choosing the outfits you must understand that there are different standards for different schools. You can ask to admission office about the outfits. You can select casual attire for going to college interview. You can select to wear slacks, skirt or dress till knee length, closed toe-shoes and collar button down shirt.
What not to wear?
You must not wear hats, open toe shoes, sneakers, flip flops, sneakers, t-shirt, excessive perfume, excessive make up, excessive accessories and shorts.
Interviews dos and don'ts
Do's
You must treat the interview like an interaction and be mature
You must maintain eye contact and get firm handshake
Also, use the words like thank you and please
You must leave the house early.
You must be natural while answering the questions and relax while interacting.
You must carry a pen and paper.
Also, be honest while answering the questions.
You must elaborate your answers instead of saying yes or no.
You must listen carefully to the interviewer.
You must maintain good hygiene.
Avoid to bring politics and religion issues during conversation.
Don'ts
Don't embellish or lie for impressing the interviewer.
Don't behave in disgraceful and rude manner
Don't show lack of interest in the college or school.
Don't yawn or act like bored.
Don't act shy.
Don't mumble during speaking
Never bring parents to interview
Don't chew gum
Don't show that you are not prepared for the interview
Don't uses slang or foul language.
Don't pay attention to the mobile phone as you will get distracted at the time of interview. If you get distracted then the interviewer will feel that you are not interested.
Don't get personal.
Don't brag and don't sound rehearsed.
What interviewer is looking for?
The college is interested to know that students are passionate or not. They also want to become aware of academic goals of students. The students must also discuss that why they are interested and how they get fit in the goals. The students must discuss passions and why they want to study in the college.
So, if you are looking for tips to crack the college interview then you can follow the above-mentioned tips. Also, if you find it difficult to complete and submit the assignment on time then you must take the help of assignment help. They have experts that will help you to write the original and genuine content. They proofread the content and check for errors like grammar, spelling and sentence formation. They also make sure that there is proper flow of content from starting till the end. So, you can take the support of online assignment help.
After getting admission in college, the next thing you have to deal is the college assignments. For your college -Assignments. We have a team of professionals who are Masters and PhD degree holders with enormous experience in writing. Our dedicated writers are well-qualified to write Assignments, report writing and any kind of essays.
For making your assignment 100% unique, our assignment writing service complete each order as per the client's requirements. Before we deliver your assignment to you, we always check it through our in-house plaigiariam detection tool. All these steps makes us to ensure you 0% of plagiarism in your paper.