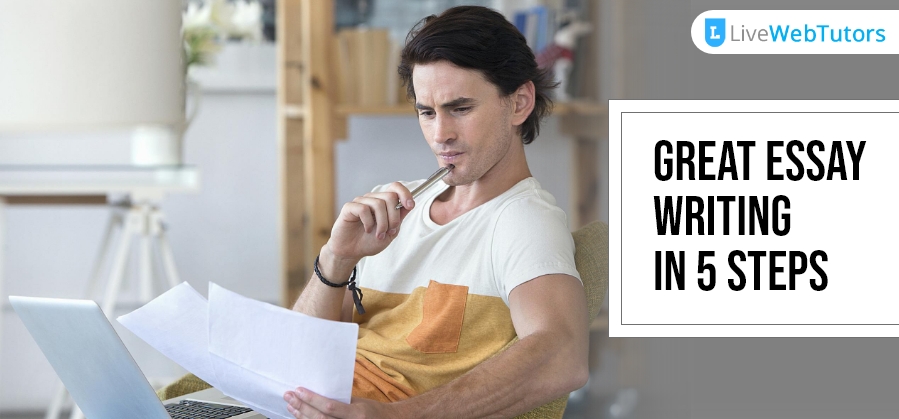 Have to prepare another essay for your program? Is the mere thought of moving the pen on paper or fingers on the keyboard frightening you to no extent? Writing an impactful essay is quite intimidating for several students in high school, college, or university years it does, however writing an essay shouldn't be intimidating. As long as you recognize the essential steps of essay writing, you'll be well-equipped to handle any type of essay and topic.
Knowing the right way to write an essay is an ability that will come in handy throughout your life. The skill to arrange relevant concepts effectively to construct an impressive essay can assist you to write business letters, company memos, and selling materials for your clubs and organizations.
Here are the 5 steps you can follow to come up with top-class essays every time.
Establishing the purpose of the essay and developing a strong thesis
Selecting an impactful title for the essay
Composing an interesting introduction
Developing a supportive body of knowledge
Writing a banging conclusion
Step 1: Determining the purpose or main plan of the essay
Before you begin writing your essay, you need to have a clear concept in mind to get your writing into action. If you haven't been given a topic by the professors, it's easier than you may suppose to come up with a solid one on your own.
Your best essays are about things that reflect your passion and fire. Determine what you feel passionate about or disagree upon to come up with an impactful topic for your essay. Select the facet of the subject you want to support and we guarantee that your essay will turn out to be stronger.
Are you interested in gardening or sports or photography or volunteering? Do you support children's rights or domestic peace or the hungry and homeless? Well, these can be the perfect clues to a path-breaking essay.
Try to present your core concept in just one sentence. This is known as the thesis statement, the idea that drives your essay.
You can always begin by listing all thoughts that enter your head about the essay topic. Clearly, some of these thoughts are going to be random and worthless but several of your ideas are going to be important for your essay. Don't waste time and energy to identify which thoughts are valuable or clearly worthless. Simply list them all.
Don't worry about coming up with complete sentences, spelling, grammar, or other rhetorical issues. The objective here is to develop impressive concepts quickly. You'll know that you are ready to wrap the brainstorming session once you have a minimum of 2 pages full of ideas.
Step 2: Coming up with an impressive essay title
Select a suitable title for your essay that expresses your primary idea effectively. The strongest titles will embrace a verb. For instance, take a glance at any newspaper and you'll see that each title contains a verb.
Your essay title should lead a reader to scan what you've got to say. Remember to build it provocatively.
Some experts even suggest writing your title only after you've finished writing the complete essay. However, there are some students who state that coming up with a strong title helps them to stay focused. You can re-evaluate your essay title once you've finished the essay to make sure that it's as effective as it sounded earlier.
Step 3: Compose a hooking introduction
Your essay introduction is one short paragraph, simply a sentence or two long, that states your thesis statement and introduces your reader to the topic. Once you've attracted the readers with your essay title, the introduction is the next best option to engage your readers in the essay.
Step 4: Writing a supportive body of knowledge
The body of your essay is wherever you develop your story or argument. Once you've finished your research and created enough notes, take a highlighter and start marking the most necessary concepts and the key points.
The right way is to select the 3 best ideas and write each at the top of a fresh page. Then go through your notes once more and categorize supporting ideas for every key point. You don't want a lot, simply 2 or 3 for each key point.
Write a paragraph concerning each of those key points, utilizing the knowledge you've gathered from your notes. If you don't have enough time for one, you may need a stronger purpose. Conduct elaborate research to support your point of view. It's invariably supportive to have too several sources than too few.
Step 5: Write a banging conclusion
If you've reached this point, you've nearly finished writing your essay. The final paragraph of your essay is your conclusion. It is usually short and should tie back to your introduction.
In your introduction, you expressed the purpose for writing the essay, in your conclusion, you need to summarize how the highlighted points support your thesis.
If you're distressed about your essay when developing it on your own, consider hiring a professional Essay Writing Service company. Respectable writing service providers like the LiveWebTutors platform can edit your work or write it from scratch as per your specific requirements. Make your choice carefully.
LiveWebTutors: An interactive way to come up with high standard essays
Online writing services like the LiveWebTutors' essay writing facility are exclusively designed to assist students to build and strengthen the base for sturdy essay writing skills in elementary school, middle school, high school, and beyond. These interactive essay writing categories build basic writing skills, make a case for essay type and structure, and teach students the way to organize their ideas.
The LiveWebTutors has built a strong name as an essay writer, for overall enrichment, remediation, and as an academic session alternative. All of the Essay Writing Help services by this portal are led by highly qualified subject-specific with years of experience in the writing sector and the ability to share valuable feedback for each essay writing order.
All the best! We hope the next essay writing task will be easier.