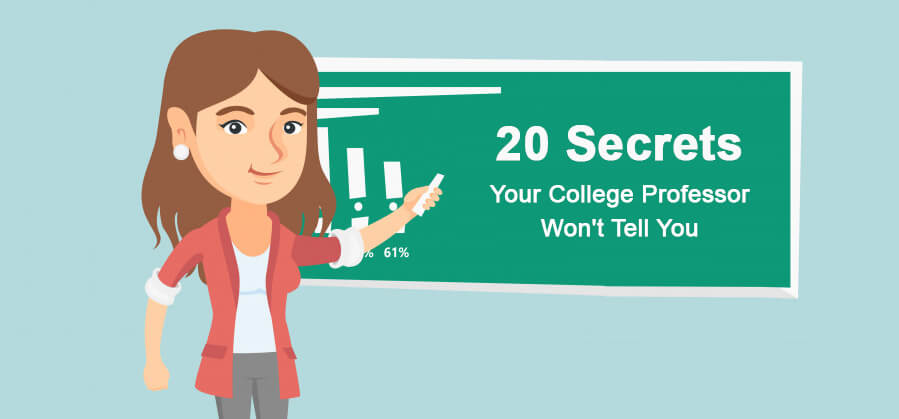 Each one of us has gone through the stage of being a student, a phase that has been the best in our lives. The carefree days along with its unmatched happiness had a flavour of their own. A lot of students are currently going through the phase and would like to know the essentials that professors would not otherwise tell them. Amidst the university schedule, you might not have realized a few essential things that the college professor knows, yet would not want you to know.
In addition to their secrets, the professors are also aware about everything you would probably have no idea of. Underneath the grey hair, there is a heap full of wisdom. Hence, before you show up in class the next time thinking that nobody will have any idea of anything, think twice!
Let us explore some of the things that the professor does not want you to know,
One: They too talk about their students behind their back
While you talk about your professors behind your back, you will be surprises to know that the professors too talk about you behind your back. If you have been pretty bad at grades or have been a notorious student, embrace yourself to be a spiced up topic among the faculty.
Two: They hate exams, just like you
If exams are nearing and you are terrified for the exams to be back, well, we have news for you! Your professors too hate exams and dislike creating questionnaires for you. It is indeed a time consuming process and leads them to hate examinations, a difficult period of time for the both of you.
Three: They are not making as much money as you think
Bagging the title of a university professor, it can often offer you the delusion that they earn a humongous amount of money. However, it is not true as landing a position at a college or a university can render an average salary. A lot of professors would not want you to know that!
Four: They have a favourite bunch of students
Just like you have your favourite teacher, they too have their favourite student. Believe it or not, the juxtaposition and fear of all our student life is indeed true! We have all feared our teachers to have a favourite and this is indeed true and a truth that our professors would not want us to know. This is particularly not true only for the teachers' pet, but also anyone in the class who has managed to draw the attention of their professors.
Five: They are aware of the hangover
The college professor too was once a student and odds are that he is able to spot the signs very well. The fact that you are having a hangover is pretty evident in front of your professor. While you say that you are suffering from the flu, your professor probably does know that you have had a rough night.
Six: Scheduling breaks is okay
It is okay to schedule breaks for yourself and fill in your productive time as per you like. Study breaks are equally important as studying. Hence, make sure that you take quantifiable breaks amidst your study tenure. At the same time, it is essential to stick to your schedule if you are in school or a university.
Seven: The assignments are not enjoyed by them
The assignments that you keep getting assigned to are not typically the choice they make. Each semester brings with it a new assignment on a topic which gets quite strenuous for the students to complete. This is when the professional helping hand of online assignment help providers comes to rescue.
Eight: Grading is a tough task
If you have been thinking that grading is indeed an easier task, well, let us burst the bubble for you. Although it might seem like an easy task, it is rather a time consuming process. A bunch of papers take a minimum of 4 to 5 hours per day.
Nine: Additional effort can help you bag that extra mark
Professors would not have mentioned, but they take your effort in consideration and help you gain the additional grade for the extra effort you put in. If a student has not scored outstanding, however, has been a keen learner and has wanted to improve, the numerical grade decides a lot for their future. Hence, the time is not ideal to obsess over numbers, instead try to learn and gain the most knowledge.
Ten: Professors love helping and interacting with their students
Do not hesitate to talk to the professor. A number of students are usually afraid and are intimidated by the fact that the professors would not be willing to help. However, you should be glad to know that most of the professors love to extend their help and aid students to learn better. If you hesitate to seek essay assignment help from your professors, make sure you contact the professionals to make things easier for you.
Eleven: Against student-teacher relationships
Although there are a lot of instances where students and teachers are seen dating, however the relationship is quite perceived to be a creepy one. It might seem like one of the best things to date your professor, however it is deemed very creepy by the professors as well. If a fellow professor dates a young student, he/she is considered to be a full-on creeper.
Twelve: Professors love to be thanked
Thanking people is undoubtedly one of the best manners possessed by us, human beings. The same is applicable for professors as well who love being thanked. A professor had quoted that in a class, a student always deems to thank him before leaving the classroom. The teacher loves the expression of his gratitude which goes a long way.
Thirteen: They love when students crack a complex theory
Professionals have been seen to love the 'Oh' moments when the faces are seen lighting up with extreme joy and happiness. The satisfaction of having been able to make students understand the complex theory makes them happier. It essentially helps to validate the effort taken to make the class happen. With college theories getting extremely difficult at times, a professional guidance is a must of the hour.
Fourteen: Some students are dreaded by teachers for their performance
If you think an assignment is difficult for you, think again! There are a number of professors who have a lot of difficulty in tackling the assignments of some students. This is because it is so bad! If you think that checking a poorly done assignment is easy, it is indeed not. Professors usually come across assignments that are not only poorly written, but also plagiarized. This kind of assignment is hated by professors and they often reject it in no time. If you wish to avoid such a situation in your own life, you know where to reach! Professional assignment providers help you to offer accounting assignment help at an affordable price.
Fiveteen: Office hours is the best time to seek help
A lot of professors might ask you to come during office hours to help sort the queries out. As university professionals, the faculty wanted to help students out and enable them to explore the subject. Small group study sessions amidst the office hours are one of the best ways to achieve it. If you are a student requiring individual attention with your course of study, it is time to seek help from the professors. It gets better when you come during the office hours when the experts can help you to understand the topic and get rid of your queries.
Sixteen: They simply know when you are absent minded
The attention span of human beings is extremely small, as long as a mere 3 minutes. Hence, we all tend to get distracted from time to time, with most students daydreaming in the broad daylight of the class. Although you seem to nod your head to every sentence spoken by the professor, however they simply know when you are not paying attention. Professors are exposed to a hundred students each day, teaching them and evaluating them. Hence, they simply are aware of the time you are actually paying attention to the class. A student paying attention is usually busy taking notes actively, making constant eye contact, resolving queries and is trying to form a nice impression. If you have not been any of them, your professor by now knows that you do not pay attention!
Seventeen: They are aware about your relationship
While you might simply ignore each other during the class hours, due to the fear of your professor, you will be surprise to know that your teacher is already aware of it. The sparks between you and your date have been quite visible to the professor. The professors are simply aware about when the students are dating. Although sometimes it is not well accepted by the professors, however most of the time they find it quite adorable.
Eighteen: They do not enjoy grading you less
Do you hate your teacher when you receive a low grade at the university? Well, they do not hate you and hence they do not simply enjoy grading you any less. Professors cite that they do not remember enjoying failing a student as it tends to bring the GPA down. On the contrary, they love it when they are able to mark a student well and give him the required marks that help him to uplift his GPA. It rather feels satisfactory to mark a student well on attaining higher grades at the university.
Nineteen: They value participation more than grades
It is undoubtedly nice to acquire grades; however it is not the only determining factor for them. Instead, they value your participation and effort a lot more than grades. They realize that the grades are a bigger picture of the goal, and especially when it comes to the field of education. The biggest mistake students can make is to prioritize grades before everything else. If score is all that you care about, you will never receive anything else from the education process.
What they prioritize more is the participation you offer. This is majorly true when you are in an intimate setting and tend to participate in the seminar well. In such a situation, it is extremely important that you do the research and participate. The zeal and passion with which you participate is what excites and impresses a professor much more. This brings a bigger smile on the faces of your faculty, than your top notch grades.
Twenty: They do not hate you, although they act like they do
It might be a common notion for students to feel that they are hated by their professors. However, it is not true; instead they do not hate you. Although they might never tell this to you directly or express it out to you, it is a truth that you need to know. Your professor might not love it when you come to the class unprepared and completely blank of the last class teaching, but this does not make them hate you. Students are often seen complaining about professors having grudges against them. It is rather a myth and a misconception that is best not thought of.
The helping hand you need in a University
Discovering the secrets might have been an enriching experience for you. A lot many times students feel helpless while doing assignments in university and hesitate to ask professors for help. However, with prominent assignment help services, you can reach out to acquiring varied subjects assistance such as finance assignment help.
Are you looking out for the perfect place to craft marketing assignment help? Visit LiveWebTutors and click on the services to know more. Chat with the live agents as a team of knowledgeable customer support professionals are ready to offer you guidance at any point of the day.