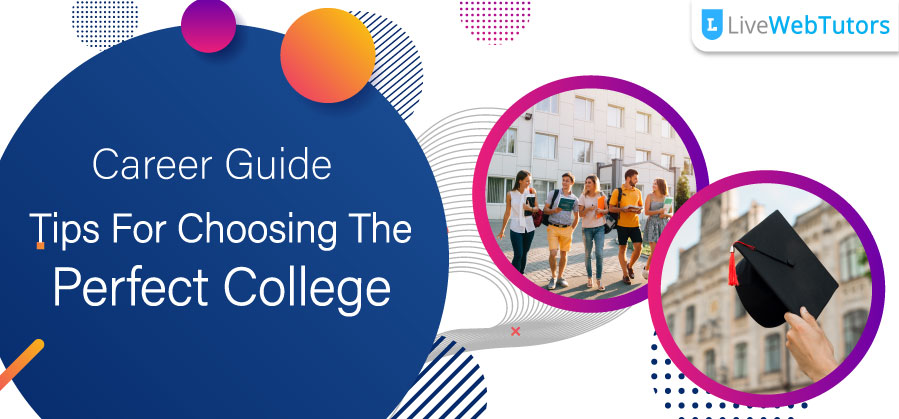 Stepping to college is the start of a new phase of a student's life. College life is full of adventures, learning, mistakes, experiences, etc. Making mistakes is normal, but no one can afford to make the wrong decision while choosing the ideal college or university. It is one of the most important decisions that could give direction to the career of the students. It totally depends on your decision, whether you are moving in the right direction or not.
10 Questions to Ask Yourself Before Selecting a Course Program!
Before moving to the tips, the students need to know their goals or requirements.
Why do I want to study?
What are my career goals or requirements?
Have I finalized my prerequisites?
What are my prerequisites?
Where do I desire to study?
What makes me fit there?
What are my interests?
How can I select a program or course that will benefit me in the future?
What are my career prospects?
What skills do I need apart from the job experience?
You cannot move ahead until you know the answers to the questions mentioned earlier. In order to make your search effective and fruitful, kindly exercise your brain and analyze your needs and future aspirations.
Moving to college is an essential step of a student's life, and they cannot overlook its significance. Their negligence can resist them achieve their career goals.
Top 10 Tips to Choose an Ideal College for Your Career Goals!!!
Now, as you have successfully analyzed what you want, you can move ahead with the factors to be considered while choosing the perfect institution for your higher studies. Here are few tips that will surely help the students to select the best college for their career goals:
1. Accreditation:
Ask yourself:
Is the college licensed?
Can I trust this college for better career options?
Is this college/university accredited?
The college you are applying to needs to have a legal license to provide education in the country. You can also refer to this process as a quality stamp that ensures that the institution meets the required quality standards.
Accreditation ensures that:
The teachers of the college are experienced and skilled
The courses are comprehensive
The students will receive a quality education
2. Reviews/Ranking:
It is significant to check online reviews and rankings of the colleges before applying. When you apply for admission to prestigious colleges of the world, you cannot afford to overlook certain factors.
Ask yourself:
Have I checked everything about the college before applying?
Is this college trustworthy?
Is the university is capable of fulfilling my requirements?
Please check the ratings or rankings of the colleges/universities to verify the authenticity of the courses or degree programs.
Why checking online reviews is essential?
It ensures the reliability of the course or the quality of education the college is offering.
It ensures the credibility of the education that the students receive from a particular college or university.
The people can check the success rates and the experience of the professors or teachers offering their service in that college.
3. Success Rates:
Before moving to the conclusion, it would be best to check the institution's success rates, professors, and prior students. You must know the career opportunities that colleges offer to the students. Community colleges and vocational schools do not have enough resources for rankings. Hence, it becomes more important to focus on success rates. Most of the colleges make a list or chart displaying the success rates of the institutions yearly.
In order to know the success rate of the universities, the students should contact the specific institution and raise a query. It might be possible that a good college offers some weak programs, and on the other hand, a college with a low success rate offers outstanding programs.
Students need to be picky and choose the perfect option for their careers.
4. Academic Support:
It is quite natural to seek additional academic support services apart from the usual classroom lectures. It is referred to as remedial classes or doubt sessions for the students who lacks behind in some topics or concepts.
If students require such assistance, they must ensure that the school or college in which they are applying is offering these services or not.
Ask yourself:
Do I need additional academic support in college?
Is this college providing the required academic support?
Will this institution fulfil my requirement of additional assistance in academics?
5. Cost/Fees:
Ask yourself:
Can I pay the fees of the course from a particular school or college?
Am I going beyond my budget to get admission to the college?
Is there any scholarship program for which I can apply to get admission to this institution?
It is advisable to look at the cost or fees of the courses that come under your area of interest. There are two types of institutions- public and private. The government finances public institutions. Hence, they offer the courses at a low price.
While shortlisting the colleges, also acknowledge their course fees. You can call and ask about their prices and the scholarship you are eligible to apply to.
Primarily, students seek educational loans to afford the fees the prestigious institutions. Students also prefer doing part-time jobs to get out of debt.
6. Environment:
The social environment is also a significant factor that affects choosing the ideal university for higher studies. Students need to socialize with people in the college, and it becomes difficult for introverts.
Ask yourself:
Do I love interacting with new people or communities?
Am I a shy person and prefer to be a part of a small community?
Will I be able to socialize with all communities in the college?
Whether you are going to attend a three-year or a four-year program, social environment plays a crucial to seek admission to the right school or college.
Analyze the college, its culture, surroundings, students, professors, etc., before moving ahead with your application procedure.
7. Amenities/Perks:
Every college offers some resources to all the students that are added as a pert or additional benefit. Spending 4-year on a campus that is the most crucial period for an individual might be difficult if you are not provided with the necessities throughout the degree program.
Amenities might include
Library
Laboratories
Gyms
Clubs
Playground
Sports ground
Medical facilities
Transportation
Please check all the perks that the university provides to the students and the surroundings of the campus.
8. Extra-Curricular Offerings:
Extra-curricular activities are essential for students in many ways.
Few advantages of getting involved in such activities are:
Improved academic performance
Explore interests and create broader perspectives
Higher self-esteem
It gives opportunities to socialize with other people
Productive breaks from academics
Add points to your resume
Help in admissions
Learn essential life skills
Goal setting
Teamwork
Time management
Prioritization
Problem-solving
Analytical thinking
Leadership
Public speaking
Students need to look for the extra-curricular offerings of the college thoroughly before applying for the courses.
9. Location Of the College Campus:
Check the location of the college campus and consider its distance from your home. If you are applying for colleges located abroad, it will not be an issue as you will be staying in hostels or get other accommodations. But, you need to check various other factors like the necessities like hospitals, clubs, malls, churches, etc. Ensure that these requirements are readily available for you throughout the period you spend there.
Ask yourself:
Can you handle being anywhere in the country?
Can you bear the expenses to visit your home frequently?
Does the location really suit your requirements?
Students who do not prefer to travel must avoid considering the institutions that are very far from their homes.
10. The Size of The College Campus:
Ask yourself:
Will I be able to adjust to a large group of people?
Would I be able to stand out from the crowd?
Is the college big enough to provide the facilities as they mentioned?
Do not forget to check the campus size before moving ahead.
What are the benefits of a big campus?
Wide variety of majors and courses.
Well-stocked libraries.
Variety of accommodation opportunities.
Well-funded sports programs and extra-curricular activities.
Wide range of academic choices.
Distinguished or well-educated faculties.
It will be better to select the large campus to avail yourself of multiple benefits as mentioned above.
Final Thoughts:
Hopefully, you are all clear with all the necessary considerations for opting for the best college for higher education. As the competition is getting tougher gradually, it is crucial to stand out from others. Assignments play a vital role in evaluating a student's skills, knowledge, calibre, and abilities throughout the course program. Securing better grades is quite crucial as it opens various job opportunities also.
Students usually struggle to manage multiple assignments simultaneously. In order to help them, LiveWebTutors offer exceptional Assignment Help from well-qualified experts. If you are looking for the Best Online Essay Help, connect with LiveWebTutors and avail yourself of an A-grade essay writing service.