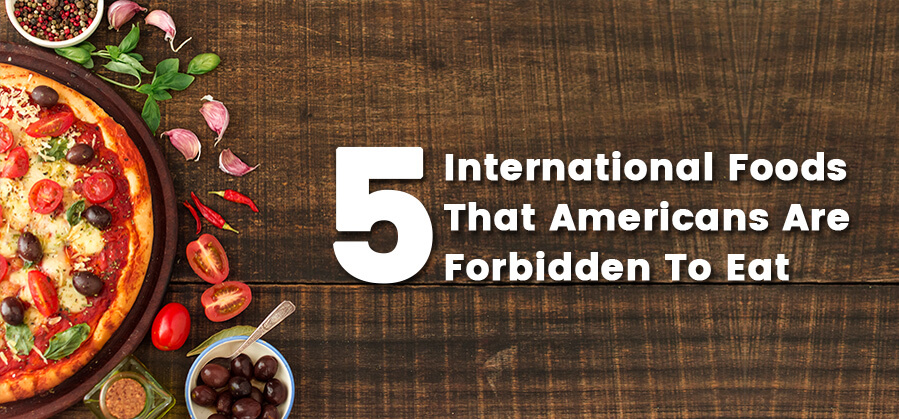 Are you living in America? Want to know what are the 5 International foods that Americans are forbidden to eat? Need the justification of why these foods are forbidden? Then this blog is made especially for you. Here, we are listing 5 International foods that Americans are forbidden to eat:
Ackee
Shark fins
Casu Marzu
Haggis
Beluga Caviar
Ackee: It is originated in Jamaica and forbidden in the United States. due to its ripeness. Either it can act as enjoyable fruit or sometimes, deadly. If it is not ripened accurately, then high levels of Hypoglycin A and B present in the fruit can be lethal after swallowing. It can be traditionally consumed as boiled and cooked fruit with salted cod. If it is ripened completely, then it is safe to consume. Otherwise, incomplete ripening can cause adverse reactions due to the high levels of hypoglycemic A and B. This is the major reason why FDA is not allowing this fruit in the United State. FDA is continuously posting several guidelines to monitor the approved ackee products as importing of fresh Ackee fruit is still not permitted in United State.
Shark fins: Shark fins were originated in China. It is not allowed in the United State. to protect the complete exhaustion of sharks in the oceans. This is the reason why "Possession, sale, trade and consumption of shark fins" is banned in the United State. These regulations have been made to reinforce the preservation efforts which were initiated at the State level with "Shark Conservation Act of 2010" and "Shark Finning Prohibition Act of 2000".
Casu Marzu: Casu Marzu was originated in Italy. Pecorino cheese present in Casu Marzu is intentionally infested with maggots. After some passage of time, maggots lay eggs in the pecorino cheese and consumes it till its readiness for those who dare to consume Casu Marzu.
Haggis: Country of origin of Haggis is the United Kingdom. Haggis has sheep lung, which is the major reason of ban in the United State. FDA has banned all the food items which contain lungs.
Beluga Caviar Iran, Russia, and other countries near to the Caspian Sea are the origin countries of Beluga Caviar. The United States has banned the import of Beluga Caviar due to overfishing. It is done to preserve the species of Beluga Caviar. Found all the information related to forbidden food items interesting? Need some assistance in other topics too? We can also help you in providing complete details related to homework help and assignment help as well. You can check our other blogs related to homework help and assignment writing service. We, at Livewebtutors, have a team of dedicated experts who work hard to deliver you the assigned task on time.
Need some assistance in Homework?
Are you or your family member require some assistance in completing your school or university assignment help? You can contact our customer care representative any time and discuss your queries. We can help you on any topic. Homework help provided by us can be availed by any student studying in different universities all over the world.
Here are some reasons why you must take our services:
We have experts in more than 100 subjects who provide complete assistance to every student.
All the solutions provided by us are of the best possible quality and error-free.
We are known to provide the top quality detailed solution at pocket-friendly prices.
Experts know the guidelines of universities and work as per the specific guideline.
Plagiarism is an offense and we understand its outcomes. Our experts write the entire assignment, hence there is no risk of getting plagiarized work.
Our quality team checks the content with plagiarism detector software before sending it to the student.
The entire document is proofread to make it free from grammatical and spelling mistakes.
Our solutions are self-explanatory which helps the student to understand the topic clearly.
Most of the students who have taken our assistance have successfully completed their coursework. Other students who are pursuing their course are returning one and they are referring their friend as well to explore our services. What are you waiting for? Call us now to discuss and share your homework and get complete assistance before the timeline.