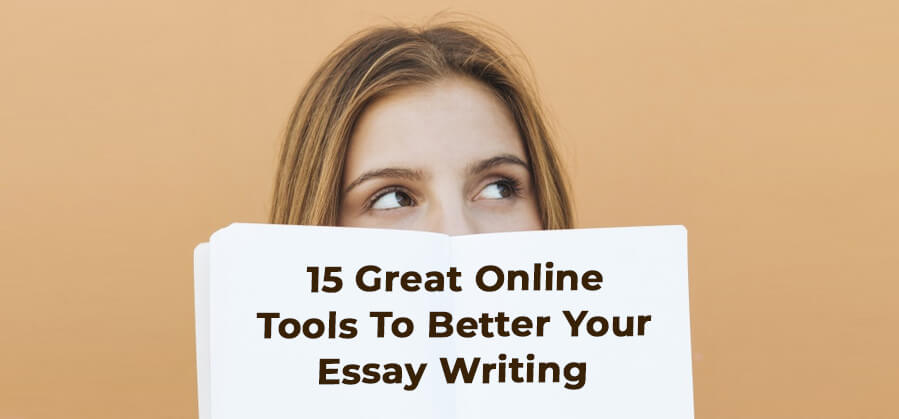 Communication in today's business world is based on emails, reports, monologues and other forms of text. Essay writing skills are important in all professions. Whether in marketing, management, journalism, teaching, or a course in engineering, you will always benefit if you have the ability to express yourself through well-structured article. If you don't master the art of essay writing help as a student, you would be reducing your own chances of a bright future. Here are 15 awesome tools that can help you become a better essay writer:
Statement of Purpose: It is very important to understand what a statement of purpose is before you start with your application documents. This website helps students with their admission papers. The guidelines provided at this site will enable you to understand how to write an essay that will present you as a successful applicant. Statement of Purpose is important for the online application and is given proper consideration in the election process of an institution. Be concise and specific in preparing your statement
com: This website gives free membership along with great benefits. You will get a free online writing portfolio, and an effective way to share your own work. The contests and activities are quite motivating and encourage you to write more. You will also get feedback on your papers that will help you improve your writing.
Essay Punch: Essay Punch is gives virtual coaching for essay –writing. It is an interactive, essay-writing tutorial that takes students through all stages of the academic writing process and provides online assignment help. The guidance offered by the website is based on pre-defined writing prompts and interactive exercises for the pre-writing, organizing, writing, editing and publishing stages.
The Easy Essay: The automated tool, the easy essay, helps you to organize the process of essay-writing. The program is effective in most of the languages. It is easy to use. The tool is important as it helps the students to organize their projects.
Essay Mama: You can get valuable essay writing help by professional writers through this online writing agency. The professional experts are Ph.D. writers and tutors, who can help you to develop your inner talent of creative writing. The blog section of the website is a great asset for the students; it features awesome infographics and writing tips that are very inspiring. It has a glossary of essay terms, Citation Generator, and WordCounter are additional tools that will help you in learning writing good essays.
WordCounter: When working on an assignment given by the professor with a specific word count, the students must respect it. WordCounter is a tool that will help you achieve that goal. It will not only provide them with a correct number of words in your essays, but will also enable you to locate words and phrases that have been repeated in the piece of writing several times.
Thesis Builder: Thesis Builder is an efficient tool that will help you draft a logical and acceptable thesis statement. From the available examples, you can also generate your own thesis by adding the required determinants and allowing the tool to do its job. The thesis statement can determine the success of the project and it is therefore very important. You cannot come up with a good paper without a good thesis statement.
Essay Forum: At Essay Forum, you can get answers to your specific queries related to essay writing. It is very helpful at all the various stages of research, writing and editing. Become part of the community and share your views too. This is a good option to take essay writing assignment help from online experts.
Essay Map: You can make the writing process easier: Try to create an essay map. Enter the name and the topic of your essay, and start going through an interactive mapping process. It will guide you through specific stages. This tool also allows printing out the blank map and jotting down the main points of your essay.
Daily Writing Tips: To enhance your writing skills, this website is a great help. Read daily articles focused on spelling, grammar, vocabulary, usage, and everything in between and brush up your writing ability. As you progress through the various aspects of the writing process, you will be able to notice yourself better in your capacity to handle academic assignments.
RefMe: As a big challenge, referencing has its own importance. It has to be one of the most essential tasks of academic writing. It is a bit boring, but cannot be taken lightly at all.it has to be done carefully. In order to make this part of your work simpler, you must use RefMe. RefMe is a free, automatic tool that allows you to generate citations, bibliographies and reference lists in anappropriate format.
com: One of most popular free online writing resources courses is offered by Time4Writing.com. It is mostly known for the eight-week online courses it offers. However, the website is also a great source of free resources in the following seven categories, viz., teaching writing, writing skills, writing mechanics, writing sentences, writing paragraphs, writing essays and standardized-test writing.
Novelguide: For literary analysis platforms on the web, Novelguide is the best option. It provides educational resources for students to have a better insight into contemporary and classic literature. Analyses of new books are constantly added here, so get into it to check the new entries of each week.
Hemingway App: The most efficient automatic editing tool is this app. Before submitting your essays, check them for minor errors and readability. Instead of using lengthy sentences and complex construction, use simpler sentences. This will give clarity in your expression and you will be able to convey your thoughts better. Hemingway is the right app for you – it will help you achieve that goal.
The Readability Test Tool: The Readability Test Tool is another tool that can help you make your essay or article more readable. It works on your write-up according to five formulas: Flesch Kincaid Reading Ease, Flesch Kincaid Grade Level, ARI, Gunning Fog Score, and Coleman Liau Index.
These effective online tools can help you improve your writing skills. With sincere practice and taking online help you can make your essay writing more attractive.