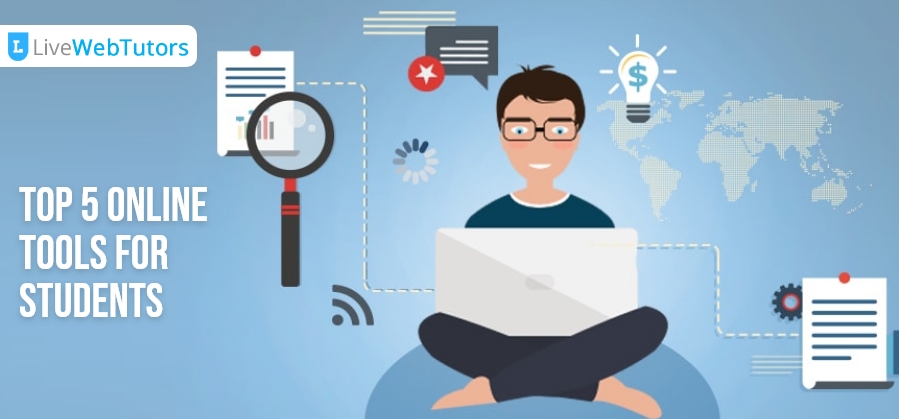 Popular online tools that can uncomplicate a student's life
In the current scenario where digitization is ruling every aspect of the world, technology is also becoming a driving force in the field of education. The way individuals perceive knowledge has changed drastically from the monotonous traditional methods.
In the times when smartphones and gadgets have influenced our lives to the fullest, there are several applications available online that can help the students in making their learning years more comfortable. These tools also play a major role in keeping students excited about learning activities.
Instead of making online gaming, texting, and tablets a bane to the student life, you can use the same user-friendly technology elements to enhance engagement and make education fun at the same time.
Several students often reach out to the experts of our platform asking suggestions for valuable applications that can help them to get things done easily and manage their education in an organized manner. This article will help you to discover some new online tools that you can bookmark or download to make your experience pleasant.
Top 5 tools that can assist you with learning
Skillshare: Skillshare is identified as an exceptional platform for students who aspire to learn new skills for transforming their academic as well as professional life. The platform has more than 17000 courses that you can choose from, such as photography, animation, graphic designing, etc., at extremely affordable prices. The courses they offer comes with the details of a trial project that can help you to utilize what you've learned. They also give an option of free trial for two months so, you can always make the most out of it.
Chegg Study: Chegg study is an online platform that comes handy in a situation where you are stuck with a specific homework problem and no one is available to guide you with that. The platform supports a huge database of stepwise solutions to complicated problems given in different textbooks. The portal can help you to complete your assignments easily and quickly and also check the answers you have derived.
Audible: If you too are into audiobooks, audible is the application you need to have in your gadgets. Audiobooks are basically a boon in enhancing your productivity if you spend maximum hours of your day in commuting or doing some additional tasks that do not require much mental effort. Audible is recognized as the best platform to get your audiobooks at extremely reasonable rates.
Coursera: If you want to learn at your own pace and convenience, Coursera is the platform that can be your ultimate destination. It is a website that provides online courses designed by qualified professors of prestigious universities and the most amazing fact is that many of those courses are absolutely free. They have a wide range of courses to choose from so do not wait and explore the website to build your skills set.
Treehouse: If you are passionate about coding and want to master the concept with the help of guided courses, the treehouse is going to be a blessing in disguise for you. The platform has several courses focusing on website development, programming, and other similar concepts. You can also learn to develop iOS and Android applications using this portal. Do not delay and access your free trial now.
Top 5 online tools that can make writing convenient for you
Turnitin: Turnitin is a well-known online plagiarism detecting tool. Students often use this tool sparingly to ensure authenticity in the text they have written. However, apart from plagiarism detection, Turnitin also supports some less popular features such as an inbuilt discussion platform. If you are using Turnitin for any discussion session it will allow you to post comments anonymously and also choose a teacher moderation option, if required. If the students already have an account and are successfully signed up getting started with the discussion platform of Turnitin is going to be as easy as a walk in the park.
Evernote: The general note-taking platform that allows you to capture all the information you grasp in a day conveniently. Be it your class notes, random ideas, research material, story drafts, assignment drafts, or random other written things, every detail can be stored in Evernote precisely. Students often find this to be the best option for general writing in their regular academic life.
Notion: It is one of the most flexible and powerful applications you'll ever come across. The application allows you to take notes, build templates, and enjoy great collaboration features. The application can be used for documenting a group project or even manage your YouTube videos.
Scanbot: Scanbot allows you to scan in paper notes and text easily on your iOS or Android devices. It finds documents easily, scans them perfectly, and delivers them to a digital location of your choice. It is a beneficial tool for scanning documents for your academic years.
Typora: If you want to do some serious writing Typora is the application for you. The platform allows you to use markdown writing methods which is the best way to write your text. You do not have to spend hours in formatting your text instead you can simply mark it up with relevant symbols and the application will automatically format it for you in just a few seconds.
Top 5 online tools for managing your budget in the academic years
Betterment: The platform provides a simple and easy to understand approach to students to help them invest in the right places at the right time and on the brighter side the management charges of the platform are also extremely low. If you have some average amount of savings from your part-time job or any other source it is highly recommended for you to go with some automated investing service and betterment is no doubt an excellent option for beginners.
Amazon student: We all know that in today's changing times we use E-Commerce websites over the general shopping sprees to save time as well as efforts spent in purchasing the everyday stuff. Students often opt for Amazon student option that provides a free Amazon Prime subscription for 6 months and after that, the price for the subscription is at a 50% discount from the regular rate for as long as you are a student.
Mint: It is an amazing online tool that allows you to keep a note on the flow of your cash. It allows you to keep a record of all your accounts and take a look at your total expenses whenever you feel like. It can also take a look at all your transactions and build a suitable budget plan that you can apply and meet up your financial goals.
Slice: If you want to keep a record of all your online purchases in one place, the slice is the platform for you. The portal sends notifications whenever a package is shipped from the warehouse so that you can keep a check at the delivery. It also keeps a track of your entire online purchase history so that you can upload it to your budget record conveniently.
TextbookMe: If you are continuously stressing about the expensive textbooks that you have to buy from the book store, you can always explore the TextbookMe platform. It allows you to compare the price of a particular textbook at different online retailers and then order the book from the platform that offers the lowest price for it.
Benefits of using online tools
As it has been established, the learners of today's time do not want to indulge in boring or monotonous education methods. They look forward to affordable, mobile, self-paced, and convenient content that can enhance their knowledge. All these requirements can easily be fulfilled by using the right online tools. Let's take a quick glance at some of the common advantages associated with the usage of relevant online tools during the academic years.
There are numerous tools to fulfil the diverse needs of the students perfectly.
Students can access information and lectures as many times as they want.
Students can get a hang of the modern communication channels which can come handy in the professional industry as well.
The affordable rate of these platforms or tools is a major factor that attracts the students to try them out. The tools make the learning process a lot quicker and easy without having the students pay any additional charge to get access to reliable sources.
Observing the influence of technology on a student's life it can be said that the effectiveness of using online tools in education is positive. The right usage of these tools makes it easy for the students to understand the content being fed to them and digest it more quickly.
Last but not the least, the use of appropriate online tools also has a positive impact on the environment as it allows the students to go paperless hence protecting the environment to a huge extent. Online tools promote a sustainable and environmentally friendly means of learning.
It is due to this large set of advantages the use of online tools has become quite widespread and is treasured amongst the scholars from all over the globe.
Keep in mind that the usage of online tools is not just restricted to learning and studying in a student's life. They can also be used by students to sort out traveling, career, productivity level, physical activities, other aspects of their life. Online tools are a way to help students make their life a lot more organized and disciplined in the comfort of their homes. The experts of LiveWebTutors.Com are also readily available round the clock to assist you with the usage of any of these tools or some other online tools that can transform your learning methods in a good way.