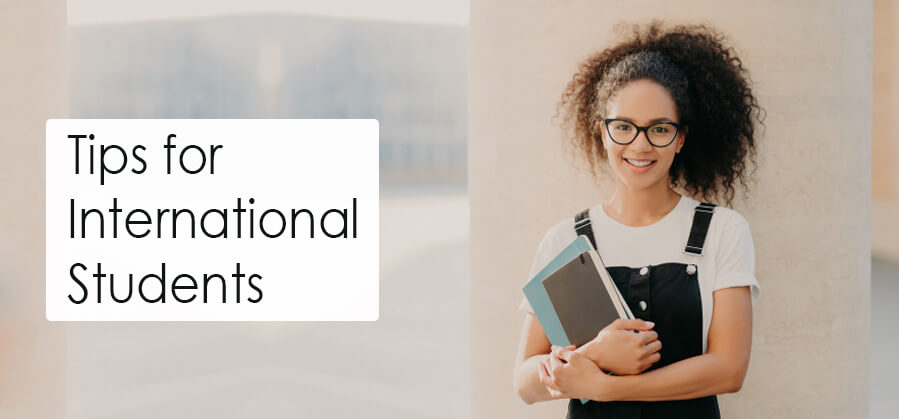 Studying abroad can be a wonderful experience but one should keep in mind certain principles to take the worry and stress out of studying abroad. It is advisable to spend wisely to save money. Money is often a major factor contributing to stress among international students since studying abroad is expensive. Thus one should resist temptations, curtail costs and not buy everything that one may like. It is advisable to live like the locals, cook local food and save money. Eat healthy food within a budget.
You can use the money you save to explore the city you live thereby learning about new cultures and having an enriching experience. Use public transport to save on conveyance costs. Keep additional expenses like mobile phone plans in mind and switch to a local SIM once you arrive. It is better to plan ahead and be well- prepared. Make lots of friends and ensure that you have a wonderful time. Get to know your classmates, flat mates and other students on campus. You could join the student association in your school or join the various clubs and groups in your school as per your interests.
Go for trips and excursions and participate campus activities. Go out with friends and enjoy yourself always and always remember to stay calm and relax.
Following are some tips for international students to ensure they have an enriching experience studying abroad:
Practice your English: If you are not fluent in English, it is advisable that you enroll in an English language course, and converse in English with your friends. This will help you gain a grasp over the language, help you to communicate and study faster as well as enlighten you about other cultures and also help you make new friends from around the world.
Manage your finances: It is advisable to stay on a budget and curtail your expenses. This will ensure that you have adequate money to buy essentials goods, pay rent for accommodation, bills, conveyance, groceries as well as set aside some extra money for travel and hanging out with friends. Once you have calculated your daily expenses, think of ways of curtailing costs. You may look for supermarket specials and student discounts, bring your lunch from home or think of various ways to make some extra money, like getting a part-time job. You should spend wisely and learn to live on a budget. You can save money by working as your student visa permits you to work for 20 hours a week, you should also open a bank account in order to avoid bank fees, choose a mobile phone plan according to your needs, switch to a local SIM cad to cut down on roaming and calling costs, use your student card to avail discounts on transport, restaurants, cafes, gyms, etc. Living like a local and cooking your own meals and availing public transport, like buses, subways etc. instead of travelling on app based cars goes a long way in saving money.
Take care of yourself: Eat healthy food, take care of yourself and ensure that you have a health insurance as medical bills can be costly.
Be aware of your rights: Know your visa rights, and have knowledge about your visa in terms of work rights, percentage of attendance required in school, holidays etc. You should abide by the rules to avoid being deported.
Travel and experience the country that you are in: Immerse yourself in the local culture and the local life (food, places to visit, activities etc.) and have an enriching experience.
Find proper accommodation: Accommodation is of utmost importance when one considers studying abroad and your choice of accommodation will be based on several factors. Students are usually expected to find their own housing, however, many institutes offer assistance when it comes to finding an accommodation. There are a plethora of options to choose from such as University Halls, Private Accommodations and Homestays and depending on your preference and budget you can decide on the kind of accommodation that you would like to avail.
Take advantage of the resources and services offered by your school: Your educational institution will offer a plethora of support services to help you during your study abroad and many of these services are customized for international students. They will assist you in mastering the English language as well as offer you bridging programs, information sessions, workshops regarding academic referencing, effective use of library etc. You will also get assistance from counsellors, academic advisers as well as your teachers, tutors, professors etc. as English language assistance and 'buddy' or peer-mentoring programs. Your institution might also organize student workshops that will teach you and equip you with the academic skills that you would need for your course. A plethora of support services will be there to assist you with personal problems like accommodation advice, counselling as well as financial services. In case you are studying off campus, similar services will be provided to you online and you can avail these professional services.
Try not be homesick: Keep yourself occupied and try not to feel too homesick. It is very important to keep in touch with family and friends back home, as talking to your parents can really strengthen you. It is also advisable to go out and meet new people and try new things as well as pursue your hobbies and interests to keep yourself occupied and busy. Have a strong support network, make new friends and you shall soon feel less homesick and enjoy your stay abroad.
Thus studying abroad can be an enriching as well as an enjoyable experience. You will make lasting friendships, get to meet youngsters from countries all over the world, explore new cultures, learn new languages and learn to be more independent and responsible.