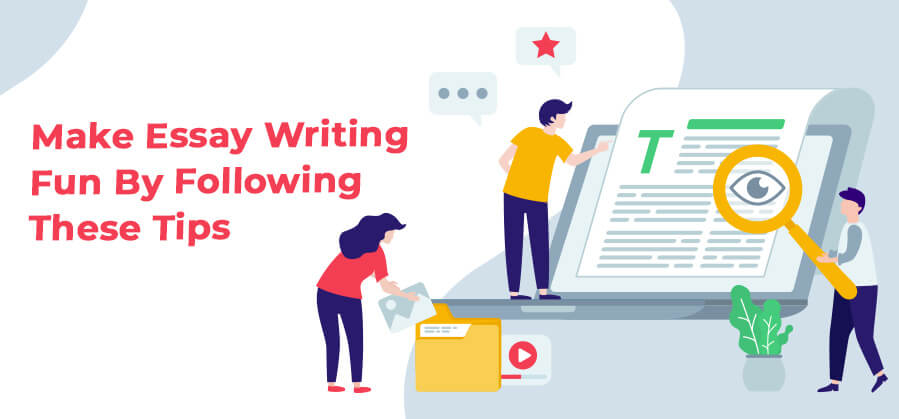 Make Essay Writing Fun? - So there is this uneasiness felt at all times that there is an essay pending to be completed soon as the due date is approaching.
However, there are so many things that ret=strain you from the initiation of the writing, particularly because you might not really enjoy writing the essay. However, these tips that follow wold help you bring an element of fun and make essay writing interesting for you. Some of the ways that essays can be made interesting to read are given by Oxford Royale Academy in 13 Ways to Make Your Writing More Interesting to Read
Following tips will help you to make essay writing fun:
Let Imagination Roll
Like we have all done in the past and today, the essays need not just be fact narration. You can put your imagination in and make it creative by adding your perspective to the facts. Let the topic be a situation and then make characters that play a role in the story. This will certainly make it exciting and interesting to read.
Follow Your Procedures
Everyone is different and the artists are certainly the different ones. Writers are as well artists and hence follow their own plans and procedures. You should know what is the best time that you like writing and would not be tired or distracted. Choose that time of the day and just start.
Create Your Ambience
There are diverse environmental layouts that the people enjoy and that give their mind more and more space for thoughts flow. So, you may like to write while sipping coffee, listening to music, or sitting by the window side. Do it all for yourself and let the finest thoughts flow to be penned down.
Deal The Distractions First
So, there is this one thing that you are planning to do after the essay? Like, make a call to your friend, visit the market, or go elsewhere. It would be better if you deal with this first and then set yourself free for the essay writing or else all this while you might just think of the good time you are missing because of essay writing and none of the two works will be done effectively.
Do Not Fret
Do not just write for the sake of writing just because you have no other option. You might just agonize. Just ensure you are in a good mood when you write and if not in a good mood already, give yourself a state that makes your mood better. Add various quotations and lines by writers you like and make the essay a learning process.
Use Social Media
Social media is one of the effective mediums that could help make things lively and interesting just sitting on a computer. So, you can post your essay title on your Facebook page and let your friends comment and give their ideas on the topic. You will get to know interesting facts as well as opinions from the different people, which will help you write an extraordinary work.
Helpful Links : Movie Review, Writing Help, Book Report, Powerpoint Presentation Writing Services, Term Paper Help, Online Tutoring, Coursework Writing Service, Dissertation Help, Essay Writing Help, Online Quiz Help, CV Writing Service, Resume Writing Service, Proof Reading Help, Book Report, Homework Help, Case Study Help, Research Paper Writing service, Assignment Help