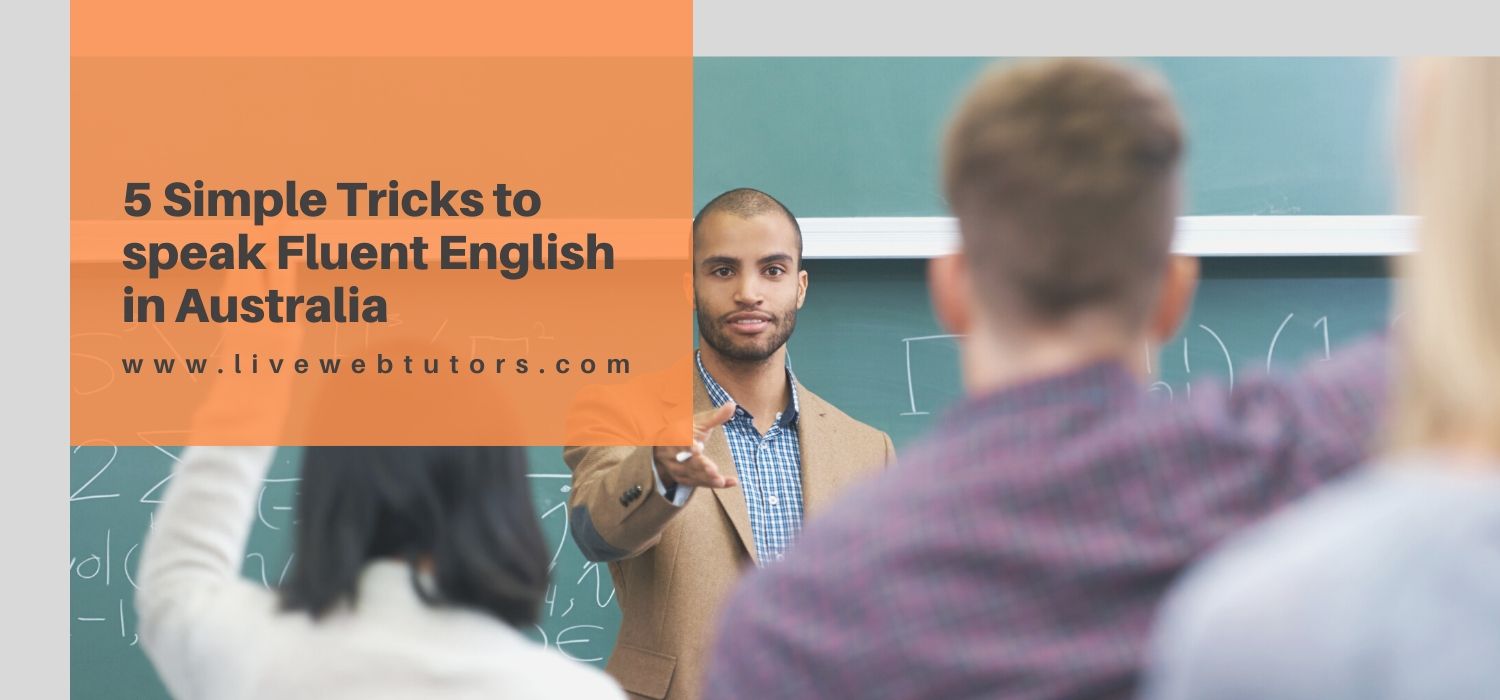 How long have you been studying English? It is very commonly seen that people who study English find hard to speak it fluently. We learn grammar and vocabulary, but find difficulty in making sentences out of it when we speak. Whatever your native language be, speaking English in different countries with a similar tone is often difficult and tricky for some people. This blog describes how to speak English fluently and improving it through daily practice. Every country has a unique way of conversing in English. Similarly, Australia has an accent.
Here are a few simple things that you need to keep in mind to master the Aussie accent-
1. Pronunciation of words
It is commonly seen in Australia that their natives speak up in a rough, casual and sometimes in an animated style. The accent is such that you need to chew the words before pronouncing it. Now to learn it, one needs to understand the sound of their accent as a whole. You need to notice the similarities between the words spoken. Most importantly you need to understand the sound of the vowels being spoken.
2. Learn to speak the alphabet
In Australia, the "i" must sound like the "i" in the word oil. This is one of the most important accents you need to understand. Instead of pronouncing the word "i" in the words like "little", "might", pronounce it in the tone of something like "oi". Do not fully concentrate on speaking with the exact pronunciation of "oi". This would be a good start that will help you in further learning. In the Australian ascent, the alphabet "a" sounds more like "aye". While this needs a bit of practice. You will notice that while speaking this word, your lips will move a bit outwards. While speaking the word "way" it must sound like pronouncing "w-aye". One can also try to soften the word "a" to give it a more "eh" sound. The word Hat would be pronounced like "H-eht". The Australians speak the alphabet "T" giving it a "tuh" sound. You will notice that while speaking the American "T", your tongue will touch the rough side of your mouth. On the other hand, you must avoid the touching of your tongue on the rough side of your mouth while speaking the Australian "T". You will notice that the alphabet "R" is spoken in such a way that it sounds like "ah". While speaking the word "forever" it sounds more like "forev-ah".
3. Voice Modulation
In an Aussie accent, you will notice that your voice automatically increases at the end of the sentence as if you are asking a question. The Aussie accent is a little loud with a very high pitch. You must notify the end pitch and try to speak in that manner.
4. Taking the help of mobile applications or tutors.
Many applications help you out in improving your Australian ascent such as Duolingo, Awabe, Learn English Daily and Beelinguapp. Whenever learning English in a foreign accent, it is very important to hear the sound of the words being pronounced. Through this app, you can hear how the words are spoken. You can practice daily. With time you will notice an improvement from your previous way of speech. You can also refer to many books that are easily available in the market and can also take the help of a tutor who is an expert in speaking in such an ascent.
5. Learning the phrases
As mentioned earlier, it is seen that people know the vocabulary. However, they do not know how to use them while framing a sentence. Therefore, if you work upon your phrases, you can easily frame the sentences correctly.
Apart for the above mentioned tips one must also keep in mind the following points
1. Practice speaking
The most important part of learning the Australian ascent of speaking English is to practice daily. Read the sentences, notice how they are pronounced and practice it daily. It will be more effective if you speak in front of the person have adequate knowledge and expertise in this field. This not only improves but also induces confidence in you when you speak English.
7. Learning by watching videos including subtitles
There are many online videos available that can teach you to speak Australian English. These videos also include subtitles which makes it easy for you to understand the words being spoken.
Why us-
LiveWebTutors is one of the best my assignment help companies have expertise knowledge in multiple areas. We have attained a high reputation in helping out students with their assignment works. We have a group of committed experts who are knowledgeable and possess vast years of experience in this field.
Completion of assignments within the due date is a challenging task for the students. Its an added pressure over them apart from their academic careers. Due to a lack of proper guidance and insufficient knowledge, students face difficulty in making their assignments attractive and creative. We are committed to resolving this issue faced by the students who are looking out for online assignment help.
We have delegated a separate department for resolving the issues faced by the students concerning their assignments. Our assignment help experts are present-day and night to interact with the students looking out for assignment help Australia companies. On the other hand, we also provide a facility for making amendments to the assignments as per the requirement of the students. We can help you out in making your new assignment as well as completing your pre-started assignment. We have a record of completing all the assignments within the deadline specified by the students.
Our experts through years of experience and qualification have acquired immense knowledge and skills. With the use of these skills, we prepare attractive assignments that help the students in achieving excellent grades. Our experts are also indulged in doing extensive research on the topic of the assignments on behalf of the students. They will provide all the relevant information regarding the industry upon which the work is to be done. Students seeking for assignment help will get a great opportunity to learn and achieve excellent grades under such professional guidance.