Different Types of Essays and Important Tips to Follow While Writing Them
Writing a good essay is an important and inseparable part of academics. However, it requires efforts to perfect this vital skill. As a student, you need to write different types of essays and sometimes you feel it downright unappealing. Just relax! Essay writing can be interesting if you know the right way of framing essays. But, before that, you need to know what the different types of essays are.
The word essay is an academic composition and it is derived from the French word "essayer" or "Essai" which implies a "trail". It is a piece of non-fiction writing that talks about a specific topic in detail. Those aspiring to write a great essay need to understand its various types. There are a number of different essay types and the purpose varies in each case.
A Complete Student's Guide to Write Different Types of Essays: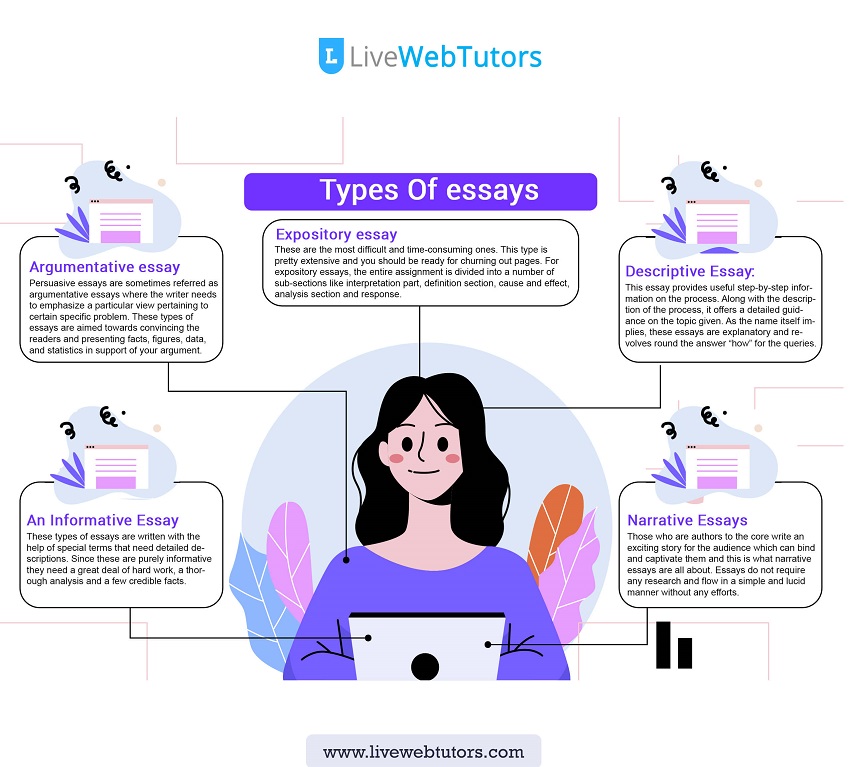 A broad classification of the different categories is as follows:
Expository
Descriptive
Narrative
Compare & contrast
Argumentative
Expository Essays:
These are the most difficult and time-consuming ones. This type is pretty extensive and you should be ready for churning out pages. For expository essays, the entire assignment is divided into a number of sub-sections like interpretation part, definition section, cause and effect, analysis section, and response.
Descriptive Essay:
This essay provides useful step-by-step information on the process. Along with the description of the process, it offers detailed guidance on the topic given. As the name itself implies, these essays are explanatory and revolve around the answer "how" for the queries. The topic of these essays began with "how". For instance, how the election in the United States takes place, how candles are manufactured from wax etc.
Definition Essays:
This category is the simplest and easiest of all. But, this does not mean that this essay does not demand any work. You need to be simple yet original as copying straight from a thesaurus or any other source that you depend on is plagiarism which is a serious offense. For writing these essays, you can provide an official definition from an authentic source with quotations and come up with your original one also that can help the instructors know your understanding level. So, it is better to understand the topic well before you begin.
Reflection Essays:
These essays are also known as personal response essays. These essays focus on subjectivity primarily and ask the writers to present their personal opinions or experiences about a certain topic. When you choose to write this essay you need to write elaborately on the subject and support the claims with proven evidence, statistics, and facts, and figures.
Most of the students enjoy writing this type because they love to express their personal opinions and ideas.
Critical or Analytical Essays:
This type of essay demands a better understanding of students. You can prefer to choose the topic either from the book or any scholarly article. Once the topic is chosen, the writer has to analyze the subject meticulously. This is so because these types of essays demand a better and thorough understanding of the topic without which you would not be able to do justice with these articles as it needs a critical review.
Cause and Effects Essays:
These essays are unique in their own ways because they are aimed at showing various phenomena in this world that are interrelated. When students are asked to write these essays, a great deal of comparison is expected from them. They are required to explain the reasons why the events happen and what is their aftermath. For instance, history students may be asked to explain the reasons behind World War Ist and its aftermath. Students need to be well-read about the topic to write effectively about it.
Narrative Essays:
Those who are authors to the core write an exciting story for the audience which can bind and captivate them and this is what narrative essays are all about. Essays do not require any research and flow in a simple and lucid manner without any effort.
An Argumentative Essay:
Persuasive essays are sometimes referred to as argumentative essays where the writer needs to emphasize a particular view pertaining to a certain specific problem. These types of essays are aimed towards convincing the readers and presenting facts, figures, data, and statistics in support of your argument so that it can be justified for sure. It is all about striking a contention and supporting that contention with adequate evidence that makes it read effective.
Some additional types of essays that students may come are as follows:
The above-mentioned essays are just a few types of essays that scholars come across primarily. But, other types also exist. There can be a lot of other categories also which are little-known. Here is a quick look at some other categories.
A Scholarship or an Admission Essay:
These types of essays are normally asked to be written when students enter the colleges. In this category students need to furnish information on why they have chosen a particular stream, why he/she needs a degree, what are their personal strengths and weakness, and a lot more about their personal details. They may also be asked to furnish information about their college. They may also be asked about how they would contribute to the college or society. These types of essays are meant for convincing a scholarship agency to get financial help.
A Cultural Identity Essay:
These types of essays are meant for communicating the various viewpoints, beliefs, religions, customs, and cultures, etc. These types of essays help people to be more inclusive about their culture, religion, or belief and they can choose to be elaborative.
A Process Analysis Essay:
These types of essays are aimed towards furnishing information in a step-by-step sequential manner.
An Informative Essay:
These types of essays are written with the help of special terms that need detailed descriptions. Since these are purely informative they need a great deal of hard work, a thorough analysis, and a few credible facts.
Important tips to write different types of essays:
The importance of writing essays can be gauged by the fact that students need to deal with writing essays ever since they enter middle school. From there on they have to write essays in high school, colleges, and even after college when they indulge in research work. Given below are certain important tips that can help you write essays effectively:
Writing Different essays for the Middle School:
They are simple and easier like just storytelling, narrative, reflective, demonstrative, or simply how-to essays.
They can pick essay topics of their interest so that they can be at ease of analyzing them. It could be matching their hobbies or skills.
Since middle-school essays tend to have word-limit and should not exceed a certain number of paragraphs, they have to be written effectively using punches, quotes, thoughts, and proverbs right in the introductory paragraph.
An essay that deserves an A+ grade needs to begin with a well-composed introduction with a directly related quotation or a proverb. This paragraph should be able to leave the instructor impressed and the same holds good for the conclusion also.
Important Tips for Writing Different Types of Essays for High School:
Students need to pay close attention to the topic and read something relevant about it as the categories can be expository, compare and contrast, narrative, effect, and causes, etc.
Here too, 5-6 paragraph structure of the essay is to be followed. Students can write three body paragraphs and a concluding one.
Focus on the given topic is very important as any diversions from it can ruin the entire essay.
Practising writing cover letters or personal statement helps.
Important Tips for Writing Different Types of Essays for Colleges and Research Work:
The topic needs to be very well-researched and hence essay writing at the college level cannot be done in haste. You need to brainstorm on the topics prior to writing on them.
You can choose to narrow down your topic and write it in a more concise way.
Personal opinions are the last thing that you should be doing. Only proper research work and writing it creatively with adequate facts and figures matter.
There is a particular format to be followed and hence you should consider writing it under expert guidance.