While writing an academic essay, there should be smooth transitions between all the paragraphs. During your writing, you are able to see all the connections in your own writing because you are deeply thinking about your topic or essay, so it will be easier for you to see the connections.
But your readers may not always be able to see those connections. That is why most writers fail to use effective transitions. Good transition makes your reader see the connections between your ideas and thoughts, as connections should always be clear for clear writing. If you want to be a good writer, make sure your reader understands the thing that you have already said and is able to relate it to what you are saying.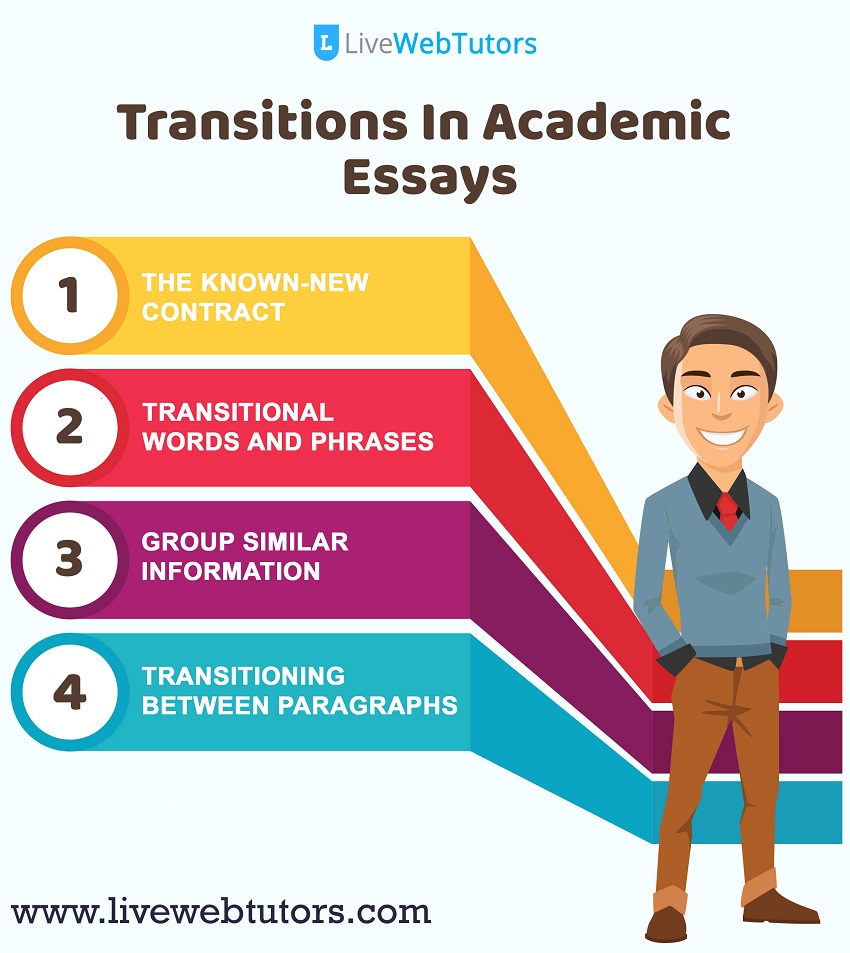 You should help them in understanding the logic of the relationship between them.
The known-new contract – You can keep this relationship understandable and clear through a practice called the known-new contract which is about both agreements between the sentences on the topic matter and cohesion between the sentences i.e. the ability to stay or fit together well.
You need to consider the order of information that you give in a sentence.
There are three rules which you can think of as the contract, such as:
You should not start a sentence with overall new information.
Start each sentence by giving reference to the information that has been given already.
End each of the sentences with new information.
Using this practice the reader will be able to approach each new thought in a different way, and in each sentence, the reader will easily integrate both old and new information together.
Transitional words and phrases – The known-new contract helps in making some of the transitions that are most obvious, but there are a number of transitional words and phrases which you can make use of when the practice of a known-new contract doesn't seem to work for you. Transitional words and phrases include the following:
Subordinating conjunctions, such as "where", "before", "after" etc.
Relative pronouns, such as "whom", "that", "whose" etc.
Conjunctive adverbs, such as "instead", "likewise", "furthermore", "meanwhile" etc.
Indicating phrases, such as "by contrast", "firstly", "in conclusion" etc.
All of these words and phrases tell about the function of the sentence and explain its relation with what has come before that sentence. You should use these words and phrases to explain the relationship between the sentences whenever you find that the relationship is not clear enough to understand.
Group similar information – You need not do the transition unnecessarily. Now you must have understood that to form an effective transition you need to include more words in your document than you would use otherwise. You should add known information at the start of sentences as well as use additional transitional words and phrases to your document. Good transitions are always needed to make your readers understand the connections between your thoughts and ideas, however too much-transitioning makes for loose writing.
You should group all similar information into one place so that you need not tell about the changes in your topic every time using good transitions. Just say it in the right way, and then proceed on writing.
Transitioning between paragraphs – Each paragraph should address only one idea, argument, or issue. Each paragraph should start with a topic sentence. Topic sentences are used to create smooth transitions between paragraphs. Each topic sentence forms a transition between the previous and the present paragraph by introducing a new argument in the present paragraph. Usually, transitions in paragraphs should be rightly placed at the beginning of the next paragraph instead of placing it at the end of the previous paragraph.
The reason is that each paragraph should focus on a single topic and we also know that information that is similar to each other should be written together in a group. Transitions usually focus on the matter of your topic that follows them. A transition between paragraphs usually focuses on the topic matter of the new paragraph, so it is quite clear that the transition belongs to the new paragraph.
While other transitions focus on the relationship between sentences, transitions in the paragraphs tell about the relationship between the focus of the previous paragraph and the focus of a new paragraph. You can say that paragraph transitions make a reference to the major point of the previous paragraph rather than the previous sentence only. They relate major points of both the paragraphs to each other.
While writing a paragraph transition, you need to focus on some points:
The paragraph should continue with a relevant or related point. For example, "Another point in support of y is z".
It should give a counterpoint to the preceding paragraph. For example, "The matter of y, however, is not the final thing in the evaluation of z".
It should deduce or infer some points from the preceding paragraph or section. For example, "From a, b, and c, we can now make logical or credible conclusions about s and t".
Here we talked about transitional words and phrases, but sometimes you will require to use a full sentence for making your transition. Also when you are working on your master's thesis, good transitions to your whole paragraphs are sometimes required. You should remember that while you are writing your academic essay writing help, you always need to be as concise and clear as you can. If you are unable to transition clearly using a word, then you should use a phrase instead and if you can't do it clearly with a phrase, then go for a sentence. If you are unable to do it in a sentence, go on using more.
You should understand that each transition word or phrase has a different meaning. Some transition words for example, "therefore", are often mistakenly used. So make sure that you are using the right transition words at the right place and ensure that you are saying exactly the same as what you have meant to say.
So next time when you write your academic essay, make sure that you have used good and effective transitions between body paragraphs and sentences to make your readers understand the logic of this relationship.