Dissertation is a long research-based essay that a student or a researcher is required to produce at the conclusion of any subject discipline. A dissertation or a thesis serves as a testament to one's knowledge and expertise in a particular field of study. Research forms the basis of any dissertation. A dissertation is a genuine way to assess one's knowledge and expertise in a particular filed of education. It not only assesses only a candidate based on his/her knowledge but also equally considers the candidate's ability to use that knowledge in real terms.
Therefore, when one is asked to produce a dissertation or a thesis, one is not just required to provide information but showcase the proficiency one possesses in implementing such information in real life scenarios. Therefore, a dissertation involves extensive use of researches. The research thus forms the basis of the dissertation and the outcome that dissertation seeks to achieve.
In order to ace any dissertation or thesis perfectly, one must also work equally zealously on other aspects related to the process of writing a dissertation. A dissertation has a number of features and each one plays a unique role in adding substance to the entire document. Students often mainly focus on the main text of the document without paying required attention to the equally important other features.
Any dissertation is considered to be perfect when it contains all the aspects in an orderly fashion, therefore apart from excellent writing, perfect formatting and structuring are equally crucial to accomplish an infallible piece of writing. One such important aspect related to structuring a dissertation is the theoretical framework. It might not be a mandatory aspect but if included it certainly oomph up the professional attribute of a dissertation. Here, in this article, we will be dealing with the theoretical framework feature of a dissertation in detail.
What is a Theoretical Framework in a Dissertation?
As the name suggests, it is a framework or an outline to the major work being dealt with. A theoretical framework is a blueprint to the entire document. In simple terms, a dissertation is mainly written to undertake some problems related to a particular subject matter and thereby finding the solutions and answers to it. With the help of theoretical framework, one gives a structure to the entire dissertation. A theoretical framework contains the methodology to be undertaken, reason for choosing that methodology, the relevant researches or studies that supplement the dissertation.
By including a theoretical framework in a dissertation, a writer intends to imitate the reader with his/her approach towards the entire document. A theoretical framework serves as a testament to the writer's intention behind writing the dissertation, the methodologies adopted, the theories used and the outcomes discovered. It even acts a preface to one's research and gives a glimpse of the entire document to the potential readers.
Many students find it difficult to create a comprehensive and relevant theoretical framework. They often get confused regarding the contents of the theoretical framework and how it should be accomplished with perfection. A simple rule therefore would be to realize that the basic aspects of a theoretical framework include – the main theme of the dissertation, the methodology adopted while writing it, the theories used to drive the outcome, inclusion of various researches conducted or referred to, outcomes achieved. All these if included in a theoretical framework, make it sufficient enough to be good.
How to create a Theoretical Framework?
Writing a theoretical framework is basically a sum-up to one's approach towards the entire piece of writing. We have carefully curated some important points that might prove helpful when writing a theoretical framework:
First, finish off with writing the main text of the dissertation. Once the writing is completed, review the entire dissertation. Note down all the important theories and researches around which one has written the dissertation. While reading the dissertation look for any loopholes or shortcomings and note them down. Also note any new development that you might have come across while writing the document.
Once you have all the vital information to be included in the theoretical framework, proceed towards writing it down. Begin with briefly introducing the main theme of the dissertation and the motivation behind it. Then mention about the methodologies adopted in order to pursue the dissertation. Define all the important theories and research studies that form the basis of your dissertation and through which you are aiming to achieve the desired outcome.
Mention any shortcomings or gaps that you might have discovered while writing the dissertation. While writing the theoretical framework, remember that the main purpose is to make the reader aware about the basic course of studies undertaken and the approach adopted to accomplish the dissertation or thesis. Do not explain each and every aspect in detail. Just summarize your approach briefly and accurately.
Though there is not a specific rule regarding the length of the theoretical framework. It mainly depends up on the dissertation and its requirement. But to give a general idea, a theoretical framework is not too lengthy. It generally is three to seven pages long. Remember it is just an intimation to the reader. Keep it crisp and to the point. Excessively long theoretical framework might discourage the reader to proceed with further reading.
Samples of Theoretical Framework:
To make things clearer, we have provided some samples for the better understanding. It must be noted here these samples are suggestive in nature and do not adhere to any set pattern or guideline. You are free and encouraged to keep your document as original and authentic as possible.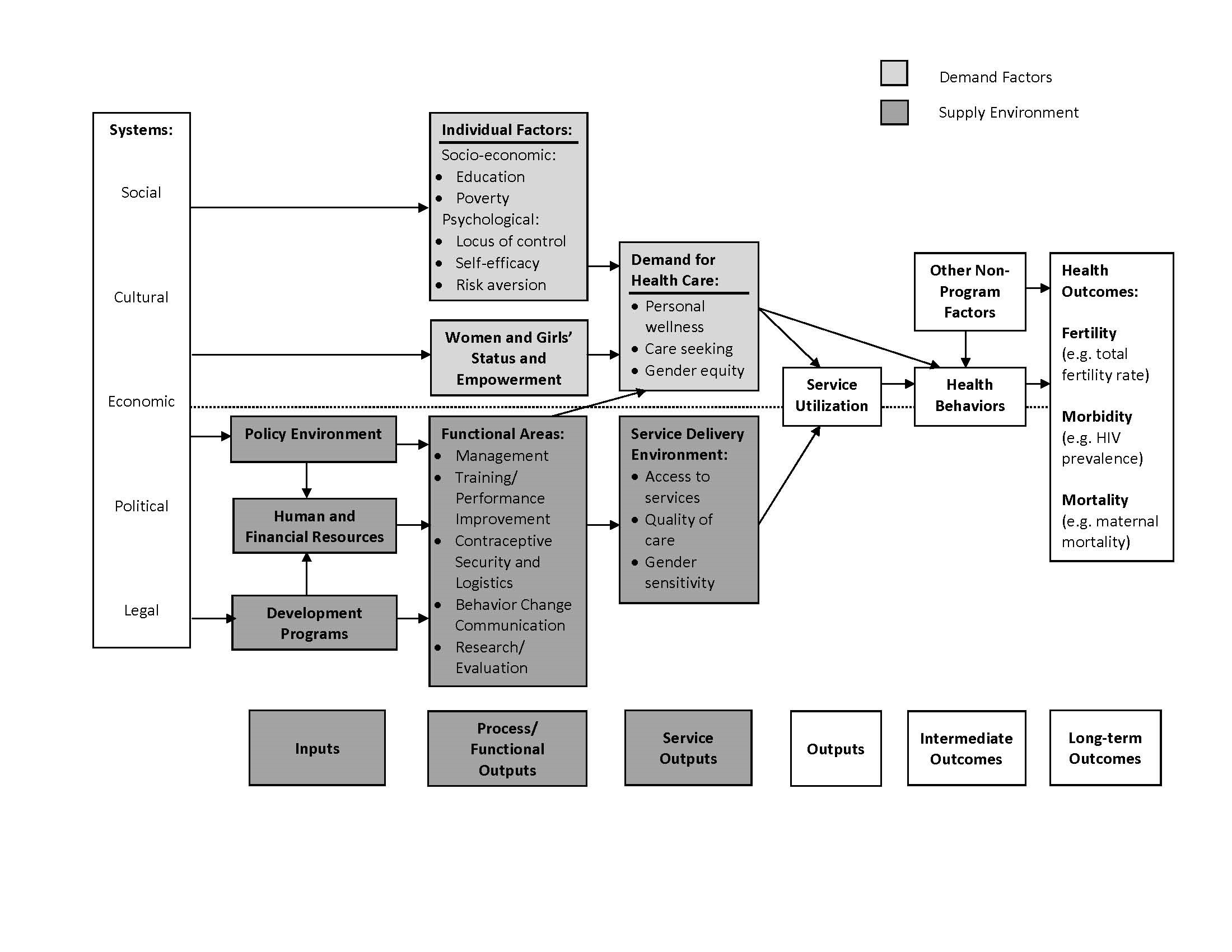 Picture Courtesy: measureevaluation.org
The above is a simple flowchart of theoretical framework. The framework depicts the theories and broader topics considered while writing a dissertation. As is evident from the sample, the framework is kept short and crisp. It is plainly indicative of the theories and methodologies used while accomplishing the task.
Thus, we can conclude by saying that a theoretical framework is an indication or a blueprint or the dissertation. It includes all the relevant theories and methodologies to bring out the desired result.
Features common to Theoretical Framework:
Many students are not familiar or aware about the various other dimensions involved in writing a dissertation, apart from just writing. They often confuse one feature with another and sometimes even use these aspects interchangeably which is not an acceptable mistake. Therefore, we have created a list of other similar-appearing features which serve different purposes in a dissertation and are distinctly important as well,
Introduction: Though it may appear similar to a theoretical framework but it is quite distinct in nature. An introduction serves a completely different purpose than a theoretical framework. Introduction is a preface to your entire write up. Introduce in such a manner that it explains your thought process. Keep it simple and sum up your entire project and keep dropping a few hints here and there such that the reader remains engaged and prepared for what is coming up.
Abstract: An abstract is a summary to one's piece of work. It gives an outline to the entire work document. An abstract should be suggestive of the work of the document. It should be self-explanatory and not a paragraph or excerpt from the assignment. An abstract in simple terms is the first impression that a writer exhibits on to the potential reader. It briefs a reader about the content of the document. The abstract underlines the motive, intentions, purpose of writing that document. An abstract contains the essence of the entire piece of work.
Abstract is vital for any long piece of document as it serves as the blueprint for the reader. It should reflect the entire document in brief. The tone and purpose of the writer should also be reflected in the abstract. An abstract should be the last thing to be written after the completion of the entire work.
Seeking right Guidance to Write a Dissertation:
Livewebtutors is a leading services provider in the field of education. We have curated a team of chose subject matter experts that are well-qualified and experienced to help you write an infallible dissertation on any topic.
We, at Livewebtutors, ensure that when you instil your confidence in us, we provide a unique and outstanding solution to your problems. Our expert writers have more than enough experience to make your document stand apart by writing an excellent dissertation. Our writers are well aware about the requirements of a perfect thesis or dissertation and they strive hard to bring an absolutely perfect desired result.
The only thing you have to do is provide us with your main document, it may be a dissertation, research paper, or thesis, and the date of submission. The rest is taken care of by our dedicated team. We ensure to provide you with an abstract that would supplement and strengthen your document. Livewebtutors strictly adheres to zero-plagiarism policy. Our writers are well-equipped to provide you with the most authentic results every time.
We, at Livewebtutors, have put in place a robust and efficient support staff to ensure round the clock assistance by our experts. We have a 24*7 helpline number that helps students resolve their query as quickly as possible.
Livewebtutors takes pride in stating that we bring the best services in the industry at relatively lower prices. Students and professionals may avail our outstanding facilities without burning a hole in their pockets. The confidence and trust that our customers instil in us, inspire us to excel even more by each passing day. Try Livewebtutors for once and you definitely would not be disappointed.