IELTS that stands for International English Language Testing System (IELTS) is one of the most popular tests in English language and beneficial for higher education along with work opportunities on the global front. The test is highly trusted upon by a large array of organizations globally. It is moreover recognized by a wide array of educational institutions such as Universities, employers, professional bodies and government.
It still continues to being the most preferred English Language test and has been setting a standard for English language like no other. In addition to the being a qualitative analysis, a number of foreign countries use the test for processing immigration applications.
How does IELTS work?
A test as resourceful as IELTS has been curated and built by undoubtedly the leading assessments experts. The test has been designed in such a manner that will essentially test the range of English skills that are required for attaining success in a University or anew scale of job abroad.
IELTS Highlights
| | |
| --- | --- |
| Exam Name | IELTS |
| IELTS full form | International English Language Testing System |
| Official Website | https://www.ielts.org/ |
| Most popular for | Study, work, and migration to English speaking countries like Australia, New Zealand, and the UK |
| Also accepted by | Canada and USA |
| Conducted by | British Council and IDP Education Ltd |
| Mode of Exam | Computer and Paper – delivered test |
| IELTS Fee | $385 |
| Score Range | On a scale of 1 (the lowest) to 9 (the highest) |
| Skills Testing parameters | Reading, Listening, Writing and Speaking |
| IELTS Exam Score Validity | 2 Years |
The student is usually assessed on the basis of the following elements:
Reading

Listening

Speaking

Writing
IELTS Test Pattern
Skill

IELTS Test Description

No. of Questions / Total Duration (mins)

Reading

The reading module consists of three passages of general interest.

Questions: 40

Duration: 30 mins

Writing

This module consists of providing information in your own words.

Questions: 02

Duration: 60mins

Listening

This module consists of a conversation on different topics.

Questions: 40

Duration: 30mins

Speaking

This module consists of testing your general speaking skills.

Questions: 03

Duration: 11-14 mins
Kinds of IELTS Test Formats:
There are two distinct kinds of IELTS exam 2021 test formats available namely IELTS Academic and IELTS General Training. The test that you choose needs to depend on what you seek to do.
IELTS Academic:
This type intends to evaluate whether your English Language proficiency is ideally suitable for an academic environment or not. The test evaluations usually reflect the distinct aspects of the language while evaluating whether the student is ready to begin the training or not. The test is usually undertaken by student who wishes to apply for high education or for a professional registration in an environment that demand English language as being compulsory.
IELTS General Training:
The IELTS General Training, on the other hand, is for the students who wish to go to English speaking countries and attain further education. It is also beneficial for individuals who wish to attain work experience and attain training programs abroad.
This type of test is compulsory for individuals who are looking forward to migrating in varied foreign countries. This test vividly focuses on the survival skills in varied social as well as workplace contexts.
Format of IELTS Test:
IELTS test comprises of four distinct components that includes speaking, listening, reading and writing. All of these segments will be tested in one single day, with one scheduled after another. Moreover, there are no intervals in between the tests.
The test involving speaking is generally scheduled in the afternoon of the day when test is held and can be scheduled within seven days before and after. Students are usually contacted by the local test centre to inform about the new set date.
IELTS Listening Test:
The IELTS listening test invests duration of 30 minutes and students are offered an additional time of about ten minutes. This interval allows the students to jot down the answers. This listening test is similar to both type of IELTS test, Academic and General training.
The students need to hear out to four distinct recorded texts, conversations and monologues. Native speakers offer these where the students need to pen down the corresponding answers to a sheet.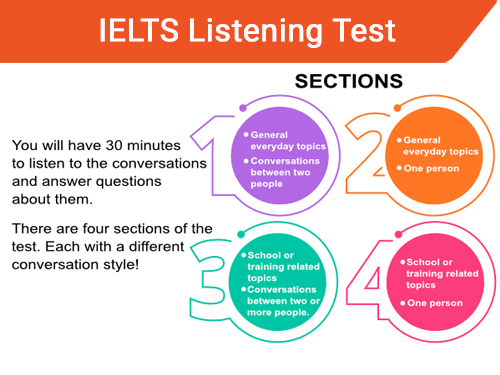 These further include several that evaluates the ability to grasp primary ideas. It also tests the ability of the students to understand attitude and opinion of speakers. It also seeks the students to get an understanding of what is being said and the ability to the follow a varied development of ideas. The speakers utilize various voices in addition to native-speaker accents and use all of these just once for the students to grasp immediately.
The listening test comprises of four primary sections:
Section 1: The test involves a communication taking place between two individuals and on the basis of an everyday social context. A common example can be cited as one that takes place in an accommodation organization.
Section 2: This involves a monologue been set in a context of social importance on a regular affair, for example, speech in an educational context.
Section 3: A conversation that takes place between or up to four individuals who are set in a training or educational context. One of the examples can be cited as a conversation that takes place in a university between a tutor and student
Section 4: This can be described as a monologue that takes place on a subject included in the academic curriculum, such as lecture in a University.
IELTS Reading Test:-

The IELTS reading test takes up duration of about 60 minutes. Comprising of 40 questions, the test covers a wide array of questions. The questions are utilized for testing a large array of skills related to reading. The questions include primary ideas, gist, and detail, reading for understanding the logical argument, the opinion of the writers, the purpose and attitudes.

IELTS Academic Reading Test:-

The IELTS test comprises of three distinct long texts that usually range from descriptive, to factual and analytical to discursive. Each texts involved in the test are completely authentic and are attained from magazines, books, newspapers and journals. The reading test has been specifically selected for an audience that is non specialist. It is appropriate for students who seek to enter undergraduate and postgraduate courses along with individuals seeking professional registration.

IELTS General Training Reading Test:-

The reading test consists of three distinct passages along with tasks. The test involves an evaluation procedure where students need to read extracts from varied places such as newspapers, books, advertisements, notices, company guidelines and handbooks. Each of these materials is available on a daily basis in any environment that involves speaking in English language.
IELTS Writing Test
Academic writing test:
The writing test takes duration of 60 minutes. This evaluation is distinguished into two distinct tasks. The topics in the test pertain to that of general interest as is widely suitable for anyone and everyone who seeks to enter undergraduate and postgraduate study. It is also beneficial for students who are looking for professional registration.
Task 1: Students will be given a table, graph, and a diagram where individuals will be asked to summarize and describe specific information in your own works. Applicants are further asked to describe a data in addition to the process and the manner in which it works.
Task 2: The second task involves writing an essay in correlation to a point of view, an argument and a problem. The responses for this and the ones mentioned above will both be written in a style that involves formal tone.
General training writing test:
The IELTS writing test too comprises of two distinct tasks involves a topics that cater to general interest.
Task 1: The first task involves a process where students are offered a proper situation and also instructed to craft a letter that needs to be written in a request tone for the explanation of a situation. This letter might be personal, semi-formal of formal in tone, thus is not restricted in a strict writing tone.
Task 2: The second task involves a procedure where you need to craft an essay with giving proper response to a particular fact or point of view, an argument or an issue of general concern. Unlike the previous task, this writing style needs to be a bit more personal in style.
IELTS Speaking test
The speaking test is bound to take a duration of 11 to 14 minutes that involves communication been held face to face. This test has been specifically designed for accessing the use of the way an individual speaks English.
The test comprises of three distinct parts:
Task 1: In this task, students are usually asked to answer a wide array of general questions pertaining to that of them and varied topics that are also related to them such as background, family, interests, hobbies and studies. This part is carried on for duration of 4 to 5 minutes.
Task 2: This task involves giving the students a card where they will be asked to discuss about a certain topic. The applicants will be given a time period of a minute to prepare prior to speaking for two minutes. This task ends with the examiner asking a question or two on the same topic.
Task 3: The applicants in the third task will be asked a number of questions surrounding the topic mentioned in the previous stage. The questions offer an increased opportunity of individuals to discuss the idea in details. It is offered in a manner which does not allow applicants to rehearse the answers before taking the test.
Who conducts IELTS?
IELTS test is operated jointly by
British Council

IDP IELTS

Cambridge ESOL
Students usually tend to be confused regarding where they need to take up the test. However, it is essential for students to remember that it is a joint operation and hence the test can be taken from anywhere.
Eligibility of IELTS exam:
As such, there are no specific criteria for IELTS eligibility for bodies such as British Council or IDP. This test is a language proficiency test given by candidates who wish to study in a country where English deem to be the official language.
Hence, as far as criteria are concerned, the candidates need to have a strong understanding of the language for pursuing higher studies successfully. In accordance to the exam pattern, the applicants are assesses on four distinct parameters such as listening, writing, reading and speaking.
What is the minimum score required by top Universities?
Each and every University comprises of a varied requirements along with a set of guidelines offering admissions. Additionally, each university comprises of distinct eligibility criteria where are required by candidates to fulfil in order to attain admission. Additionally, the candidates need to match a number of requirements that have been set by the University where they are planning to enrol.
What is the minimum age criteria needed for giving the exam?
The minimum age for giving the IELTS exam is 16 years. Anyone above the age of 16 years can give the test, irrespective of the background and nationality. There are varied exceptions where the school requires the score and the age limit tends to vary. However, the preferred age of the individuals appearing for the examination should be 16 years and above.
What are the cancellation fees of IELTS?
On cancelling the application made for IELTS within a span of more than five weeks before the date of test, applicants are going to receive the refund excluding the administrative fee of 25%.

In addition to this, if you cancel the exam in a period of less than five weeks ahead of the date of test, you will not receive any refund.

Candidates failing to appear for the examination will not be liable to receive any refund. Although this is also a cancelled state, however the candidates are not going to receive any of their registration fees back.
How to register for IELTS?
It is essential that you keep your passport handy during the registration process as individuals need passport number at the time of registration. Applicants also need to carry the document while going for the examination on the test day. The registration process can be performed in a few easy steps as mentioned in the following:
At first, the applicants need to visit the official registration page of the British Council.

Post this step, you need to create an account with the Council.

Find a test centre located nearest to you

Register for the test and pay the stipulated amount online
Why do you need to choose IELTS as a test method?
The test method of IELTS needs to be chosen for successfully meeting the requirements needed for applying for a University or a citizenship.
It is the test for study:

A wide array of the most reputable Universities of the world and colleges usually accept this test format as their standard format of acceptable in the University. The results are one of the most constructive and resourceful evidences of the proficiency an individual has over the language.

It is the test for professionals:

The bodies of professional registration abide by the results that include engineering, accounting, medicine, law, nursing, pharmacy, medicine, teaching and so on. This undoubtedly signifies for a student to take the tests post the completion of their studies. This forms as the most intermediate base for gaining professional registration in an English speaking country.

A valuable test for migration:

The scores pertaining to this test are required by governments in several countries. The scores of this test are given more importance as compared to any other test for individuals seeking permanent residency. This is the only non-academic test that is available for migration to Australia, Canada, New Zealand, USA and the United Kingdom.

A test that is recognized worldwide:

IELTS as a test is accepted as the major evidence of the proficiency attained over English language by organizations in a number of countries, as many as 140. The test is accepted all around the world for immigration, education and professional purposes. Apart from the reputation the test holds, it is also the most widely recognized one across the globe.

Offers accurate assessment:

The examiners of the test ensure a completely accurate assessment through application of strict criteria set to each task and stage of the test. The results therefore tend to reflect precisely the level of English language. As most of the professional institutions all around the world require a score of 6 to 7 points, hence if the score is less than 5, the applicant is usually recommended to repeat the test.

A fair test:

IELTS seeks to assess the practical communication while offering an accurate assessment of the skills involved. It rightly focuses on the language abilities as compared to the specialist knowledge of the candidate. By offering two versions, general training and academic training, it facilitates a speaking test with an examiner in privacy.
Benefits of IELTS test:
A lot of individuals are just aware about the fact that a certain score is required in order to fulfil the ambitions they have, and they might also be working hard towards achieving it. But, many of you are still not aware of the additional benefits the test comes with. Let us now explore the top five benefits of t he test.
Applicants are bound to receive an objective assessment of the English language abilities:

You might be thinking that your English speaking abilities are great, and might have received sufficient compliments as well. But without taking up the test, it can be extremely difficult to know the level. The test will justifiably measure against the rigorous standards.

A globally recognized certificate:

Individuals taking an IELTS test receive a test report which is essentially accepted and recognized by a number of institutions located worldwide. Some of these institutions involve professional bodies, government agencies, and companies and so on.

Brush up the English language skills:

A few students tend to favour a few skills over that of others. While taking an IELTS test, you are tested in a wide array of skills which involve listening, reading, speaking and writing. Hence, it is necessary to practise them if you wish to achieve a good score.

A strong understanding of English:

If you take this test, you will soon become a lot more familiar with the language that is required for studying in undergraduate and postgraduate level.

Motivated to learn:

It is easy to get distracted from studies if you have no set a clear goal and aim. Taking the test will offer you the right motivation required to study hard by bringing a sustainable improvement in the language.
IELTS Band Scale
| | |
| --- | --- |
| Band | Skill Level |
| Band 9 | Expert user |
| Band 8 | Very good user |
| Band 7 | Good user |
| Band 6 | Competent user |
| Band 5 | Modest user |
| Band 4 | Limited user |
| Band 3 | Extremely limited user |
| Band 2 | Intermittent user |
| Band 1 | Non-user |
| Band 0 | Did not attempt the test |
Steps to prepare for IELTS:
Understand the format:

Each test comprises of a distinct test guidelines. You need to familiarise yourself with the test format and review the content. Understand the questions and the tasks required for each question.

At the same time, it is also essential to read through IELTS norms and regulations. Candidates can have a better view of the norms as stated in the application form of the rest.

Practise using test questions:

The test questions are extremely helpful in ascertaining the kind of questions asked. This will offer a detailed idea on what all to expect in the test procedure.

Seek preparation course:

If you require assistance with the preparation, it is essential to take help of the preparation courses. While it might not be necessary to attend the course, however a lot of individuals find it to be extremely helpful.

Register as soon as you are ready:

As soon as you think you are ready to take the exam, it is essential to register for the rest with a centre nearest to your location. The test takes place over 1600 locations in as many as 140 countries. The applicants would need to pay the fee during the registration process.
Get in touch with the professionals for the right guidance
Does it seem difficult for you to prepare for the IELTS exam 2021 and ace it well? There is no need to worry as Livewebtutors.com is one of the most popular services that offer guidance of IELTS online assignment help.
The professionals at livewebtutors.com are expertise in their services and have the necessary knowledge required to perform the writing services with ease. Offering a fine panel of experts, the writing professionals seek to offer the most extraordinary writing services throughout the world.
In addition to this, the professionals also offer the right guidance to prepare the applicants for the exam, IELTS. This English based exam requires a proficient knowledge on the subject which needs to be tamed well by the professionals.
We offer these services in the most affordable solutions as we seek to cater to the budget of one and all. With the guidance achieved from livewebtutors.com, the applicants are able to gain a supportive ground to ace the exam with confidence.