A Complete Guide on How to Structure Your Essay
"Take care of your costume and your confidence will take care of itself."
-Amit Kalantri, Wealth of Words
It has been rightly said that writing an essay is just like wearing a trendy costume that you love to flaunt. If that costume is truly impressive, your confidence level tends to soar up!! But, unfortunately, students have a hard time dealing with how to write a good essay because they have unconnected ideas and thoughts. Even if they research or read a lot about the topic they fail to do justice with their essays because they do not know how to structure their essays. Poorly structured information in the papers can ruin your impression and grades.
Discussed here is a complete overview that can make writing essays easier for you.
Prior to Starting Your Essay:
Before you understand how to write an essay, you need to get hold of as many relevant materials as you can. Find out the relevant materials related to your topic. This will help you frame a wonderful essay.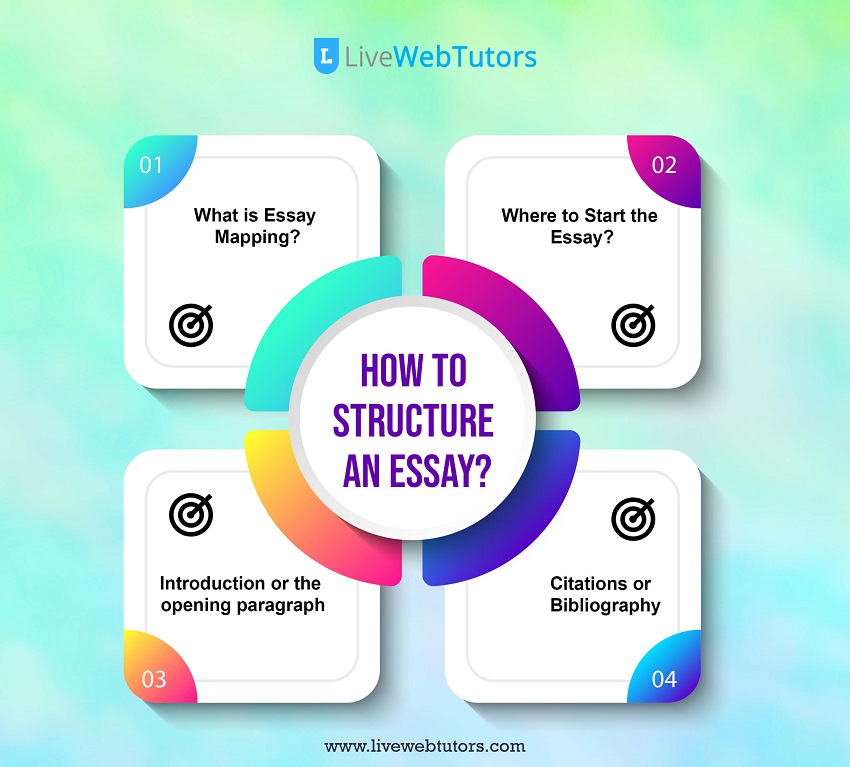 What is Essay Mapping?
Structuring your essay according to the logic of readers is like examining your own thesis and anticipating what readers actually need to know and in what sequence to grasp and be convinced with the arguments as they unfold. There are a lot of things to be done so essay mapping is important. It predicts where your reader would get the background information, a close analysis of the primary source, and counterarguments. These maps are not concerned with the paragraphs as much as the different sections of the essay.
Where to Start the Essay?
When you are writing an essay, just remember that not just an introductory or concluding paragraph but every paragraph and sentence matters. But, you should aware of the fact that most of the instructors and professors begin grading your written pieces as soon as they start reading them. So, your introductory or the beginning paragraph decides on what scale your essay will be kept. So, the strongest of all paragraphs is the most important also in the essay.
Introduction or the opening paragraph:
Crispy, short, summarizing, and captivating (120 words)
You need to develop an introduction that can set the aim of your essay clearly. So, be clear in your mind what your essay wants to achieve. The idea of this paragraph is to give an overview of your argument. It does not have to be too long or too elaborative. Just 120 words are good enough to introduce a compelling thesis statement that can grab the attention of readers instantly. If it is an analytical essay, it is good to discuss both sides quickly in the introduction. The introduction of the essay is the thumbnail picture of what is to be followed next and it is at this point where the reader can approve or disapprove of your essay.
Body Structure:
Soul of the essay, multiple thoughts, and paragraphs….. (Multiple paragraphs)
There is no need to stick to the five-paragraph structure of an essay. If the essay is descriptive or analytical then it can have as many words as you choose. The body of the essay is referred to be its soul because it is this area where the bulk of the essay goes. Paragraphs between the introductory and the concluding paragraph comprise the body of the essay. So, you need to be elaborative here. You can choose to strike a contention and justify it with adequate facts, statistics and figures.
This part of the essay comprises several paragraphs. You need to take care that each heading and subheading should present a new topic, idea, and subject. The paragraphs need to be coherent and full of supportive evidence. It is important that your paragraphs should have proper cohesion and do not look messed-up with several thoughts mingled. Avoid clichés and do not drag a single point to a large extent. Make a smooth transition from one paragraph to the other. This will help the reader to identify the key areas that you want to discuss quickly.
It is good to keep in mind that instructors do not just look at your writing skills, they test your analytical and logical thinking as well. So, research a lot before you begin to write. Create a meaningful and persuasive argument in the body and justify that argument with lots of substantial evidence. The body of the essay does not have a bar over words and hence you are at liberty to present your arguments effectively at length.
Conclusion or Closing Paragraph:
Short, peppy, thought-evoking wrapping things up: (120 words or little more)
The last paragraph of an essay is the conclusion and about wrapping things up in an organized manner. It leaves the reader with the best impression provided it is written well. Always take care not to introduce any new ideas in this paragraph. Also, do not try to rush up things as it will ruin the spirit of the essay. Wrapping things up does not mean that you will induce boredom and repetitions here. The conclusion shows how well the topic is being understood and written. So, a tempting paragraph or two that can evoke thoughts and make the instructors judge how good the essay is always a desirable one.
Citations or Bibliography:
Most people choose to overlook the importance of a bibliography. But, in reality, it helps the essay evaluator know how well-researched the essay is. This portion of the essay comes after the conclusion and states all the materials which have been referenced to prepare the paper. If the paper of the essay has direct quotes or citations, it is good to state the name of the writer beneath otherwise you will be penalized for plagiarism or can lose your grade also. Apart from that, if you do not add a bibliography, your essay will be thought of as poorly referenced. So, take this additional pain and add it at the end after the conclusion.
While you are structuring your essay to get a better flow when you write it, just keep in mind that a typical essay has different types of information that are located in specialized sections or parts. There are several short essays also that perform different operations like introducing an argument, analyzing the data and also raise the counter-arguments, and then wrapping up.
Only the introductory paragraph and concluding one have fixed places and other paragraphs do not have. A counterargument may appear in a paragraph as a free-standing section right in the beginning or before it ends. Background materials like the biological information, summary of any relevant theory or criticism are somewhere between the first analytical section and the beginning paragraph. But, it is to be added only to the specific section of the paragraph to which it is relevant.
Background material is sometimes referred to as biographical information or historical context that appears somewhere near the beginning of the essay between the first analytical section and introduction. It appears near the beginning of a specific paragraph that is relevant to it.
Different essay sections should answer different series of questions that have direct relevance to the topic. Readers should have questions in mind while reading the thesis. If your essay is not thought-provoking, it is not better than the compilation of facts blandly.
Here are the questions that you need to incorporate in your essays to make them more interesting.
What?
This is the first and the foremost question. Every reader wants to anticipate this. "What evidence shows that the phenomenon described in the thesis is true? You need to examine the evidence carefully so that the truth of your claim can be easily demonstrated. You need to keep in mind that "what" comprises as much as one-third of your essay. So, your essays should be able to answer "what's". If it is not doing so it will read like a mere summary.
How?
Readers are interested to know whether the claims that you make in the thesis are true. So, "how" becomes all the more important. The entire essay must have at least one how section that should come just below the section. But, it is needed for a counterargument or for justifying; you can use how anywhere it needs to be.
Why?
Readers also want to know how far your claims can be true. This question can answer several complications of your thesis. This is so because it allows the readers to understand the essay in a bigger context. You should know the significance of why and incorporate it in the structure of the essay wherever necessary. Why question flesh out eventually in the closing paragraph. If you leave that, your readers tend to experience an unfinished and bland essay.
Writing an essay is not just about flaunting your writing skills to impress. It is a lot more than that. It is a coherent reproduction of ideas to the argument. Essays are essentially linear because they present just one idea. Efforts of a good essay should be directed towards making that idea appear sensible to the readers. The focus of an essay is on furnishing information primarily. How well you present your thoughts depends on you!