Writing an Academic Essay
There are many types of papers and essays you will be asked to write when you are a student. One of the most common assignments among those is an academic essay. It is a reflection of your understanding about the basic course material, the extra effort that you have made in researching for your essay topic and your analytical ability in choosing and commenting on the materials you have used for your research. An academic essay should provide a solid thesis that advances a debate which is then supported by relevant evidence, analysis and interpretation.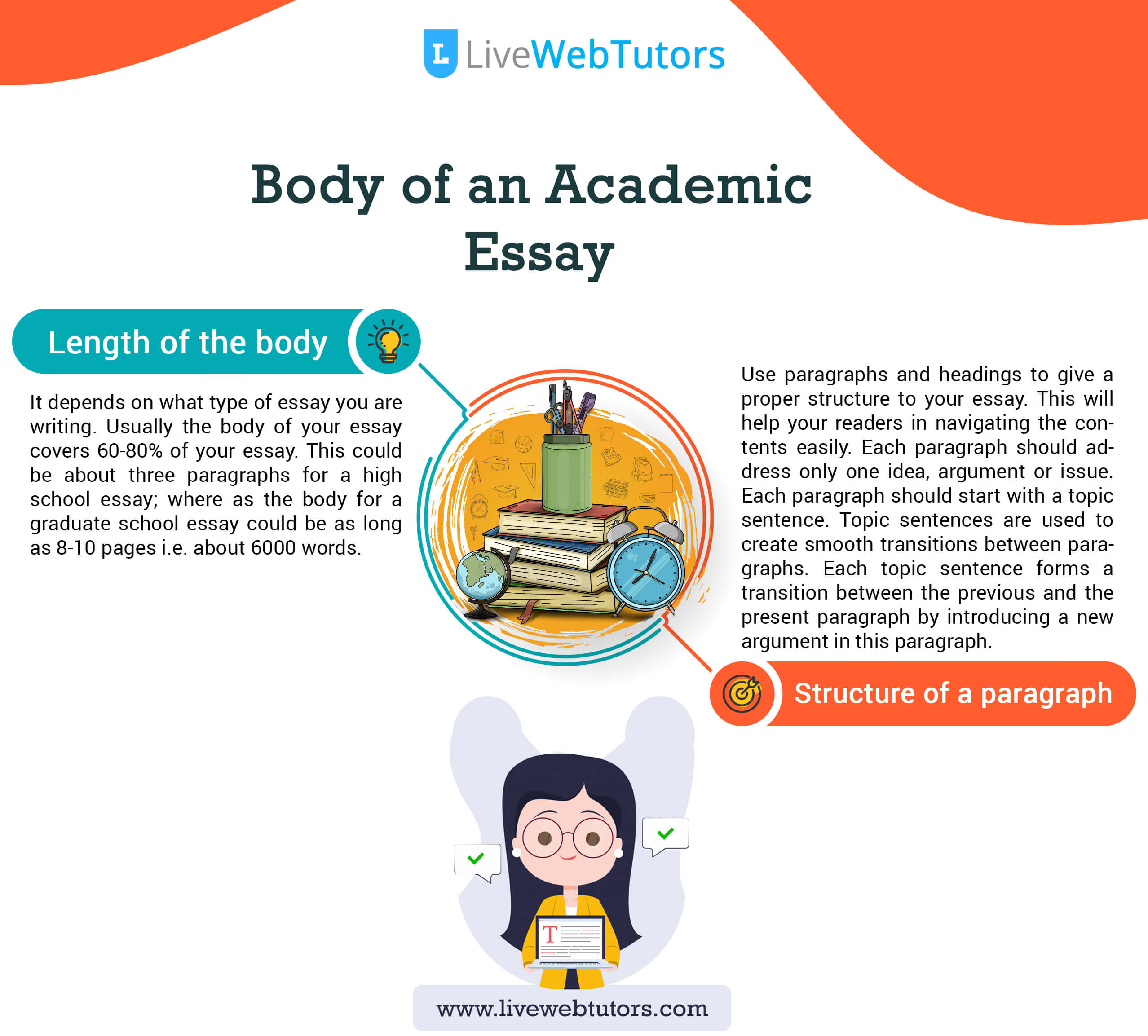 No doubt your essay should be written in an organized way so that the readers follow and value your thoughts and ideas. The essays are variable in terms of content and length, which depends on your subject of study, your level and your specific course requirements.
Body of an Academic Essay
Here you give your arguments that support your thesis statement, provide relevant evidence and develop your ideas. Here you present, interpret as well as analyze the sources and information that you have collected to support your arguments.
Length of the body – It depends on what type of essay you are writing. Usually, the body of your essay covers 60-80% of your essay. This could be about three paragraphs for a high school essay; whereas the body for a graduate school essay could be as long as 8-10 pages i.e. about 6000 words.
Structure of a paragraph – Use paragraphs and headings to give a proper structure to your essay. This will help your readers in navigating the contents easily. Each paragraph should address only one idea, argument or issue. Each paragraph should start with a topic sentence. Topic sentences are used to create smooth transitions between paragraphs. Each topic sentence forms a transition between the previous and the present paragraph by introducing a new argument in this paragraph. Transitions between sentences can be created using transition words. After writing each of your topic sentences, you need to present evidence to your readers in the form of examples, data or quotes. You should explain and interpret your evidence and show how you are able to develop your overall argument with the help of paragraphs.
Tips on Writing the Body of an Academic Essay
The body is the biggest section of an academic essay where you make your arguments. The major problem that writers encounter most often is the organization of the body paragraphs. You need to know how it should be presented. So here you can follow some tips to plan, organize and re-organize the body of your essay:
You need to plan, organize and re-organize your paper until your writing is finished. Working on a paper's organization starts before you start writing your paper. It continues as you go on writing and it should continue even your writing is finished. You should always change the organization of your body paragraphs from the time you have conceived your idea for your paper and it should continue until your paper is completely perfect. You need not always think about the ways in which your sentences or paragraphs are ordered, but you always need to check whether things are working out for you or not.
Start with a rough outline of the body organization. This will help you in getting started with your writing. Also if you keep your focus, the outline will help you in remembering which part of the essay you are working upon at that moment, and how you can relate it to the other parts of the body.
While you are working on a particular section, if you come up with a plan or think of an idea about something elsewhere in your paper, you should take a few moments to add it to your outline or you can make notes also on your organizational ideas. If you have clear enough ideas in your mind about what you want to say through your paper, try to write down those ideas in different topic sentences. Write down all of the basic components of a topic sentence. This will help you in remembering what you had in your mind when you complete that specific section you are working upon.
A good working thesis statement, as well as working topic sentences, are always needed which will keep you on your track as you write your paper.
You should check each of your topic sentences that should be relevant to your thesis statement and ensure that your body paragraphs are covering important and relevant matters of your topic.
You should also check every topic sentence against each other to ensure that each paragraph does not cover the same thing and also to make sure your body paragraphs are ordered in a logical way.
You should check each sentence of your body paragraph against the topic sentence to ensure that the content in your paragraph is not written off-topic i.e. not relevant to the topic.
You should condense all of the paragraphs into their topic sentences only after finishing the first full draft of your paper and read them one by one at a given time.
Compare your topic sentences with the rough outline you have made at the start to make sure if you are still staying on the right track or if things have been changed as you proceed in your writing. It's totally fine if your ideas have evolved in a different way, but you should always be aware of this.
If the ideas are clear and the transitions between body paragraphs and sentences are good enough, you should not have any problem reading through your topic sentences without getting lost. You should check to ensure that you are not finding any difficulty in this.
By looking at only topic sentences at a glance, you will be able to see the route of your paper from the beginning till the end and you will get to know in which direction your paper has gone. You will be able to find out errors at the organizational level more conveniently by following this technique.
Look for the paragraphs that cover the same thing. There should be clear differences between the contents of each paragraph. Each paragraph should deal with something different. If two paragraphs talk on the same topic, both of them should approach the topic in slightly different ways. These differences should be visible and need to be noticed in the topic sentences.
You need to check whether the transitions between paragraphs are smooth or not. Don't get disappointed if you find out that your organization is not working when you are on your way of writing your draft or even after you have finished writing it. Take a small break if needed, come back again to the paper and start working on your outline again. Compare between what you have written and what you wanted to write in your draft. Before you can start writing again your draft, re-organize your paper properly and make a plan that should fill the organizational gaps, if any. Then proceed with writing your paper.
Now when you have got a detailed idea about writing the body of an academic essay, which is the most difficult part when you are writing your essay, you can make use of above-mentioned tips to organize your body paragraphs easily.